Antalya amusement parks are one of the exciting tourist attractions of this beautiful coastal city and are very effective in attracting tourists.
With its long history, Antalya is one of the world's most ancient towns. Aside from being historically significant, this city features gorgeous landscapes, beaches, and numerous leisure opportunities.
Antalya has become the most popular travel destination for Iranians. Because travelers in this city may enjoy nature, beaches, and Italy's entertainment attractions, including its distinctive amusement parks, in addition to shopping. Many visitors come to Antalya with the purpose of having fun, so the city's amusement parks will be ideal places to have fun. The following sections introduce some of Antalya's most remarkable and thrilling amusement parks:
Top 6 interesting parks in Antalya
Aktur Lunapark
Kepez Varsak Park
Tekno
Dinopark Antalya
Kar Dunyasi (SnowWorld)
Land of Legends
Aktur Lunapark
The largest and most significant amusement park in Antalya, Aktur Lunapark Antalya, was established roughly 20 years ago. The most well-liked park in this city among locals and visitors is this theme park, which is appropriate for visitors of all ages. This park, situated on Kenyalti Beach and Ataturk Boulevard and regarded as one of Antalya and Turkey's top tourist destinations, is a great place to spend an exciting and enjoyable day while on an Antalya trip.
The design of this entertainment complex began in 1991, and its construction was completed in 1997. Currently, it is the best amusement park in Antalya and has many exciting games, and every year the number of these games increases, and it becomes a well-equipped and modern park.
Notably, the Aktur Lunapark amusement park is situated in front of Migros, one of Antalya's top shopping malls. For the same reason, you may visit this mall before or after letting out your emotions and energy and doing some shopping.
The advantage of this amusement park is that it is appropriate for people of all ages and families, including those with young children. When visiting Antalya, you must stop here and take in the entertainment.
There are various games available to tourists in Aktur Antalya amusement park, such as gigantic Ferris wheels, trampolines, octopus, bouncy castle, 5D cinema, gondola rides, computer games, enormous slides, and so on. Visit this amusement park to have the utmost delight.
Kepez Varsak Park
One of Antalya's most recent amusement parks, Kepez Varsak Park, was reopened when Erdogan was the prime minister. Water sports with vast pools and Masal Park are the two primary components of this park. We advise you to take advantage of the water activities offered by this park as the pools there are enormous and thrilling and were constructed in the manner of Olympic swimming pools.
Masal Park is a fun and exciting area of Kepez Varsak Park that was created with young children under the age of seven in mind. This park has all the equipment and facilities needed for children under seven years old, which children can use to bring enjoyable moments. This park is located in Kepez Antalya and in Dermil and is open from 8:30 to 9 at night.
Tekno
If you visit Antalya, be sure to take your children to the Tekno amusement complex because this complex is completely covered and designed and made especially for children. If you have a small child, this park will be the best park for your child. Adults may enjoy themselves in this park because it contains a variety of play equipment.
The games in this amusement park include bumper cars, swings for children, a bowling club, and Mexican football.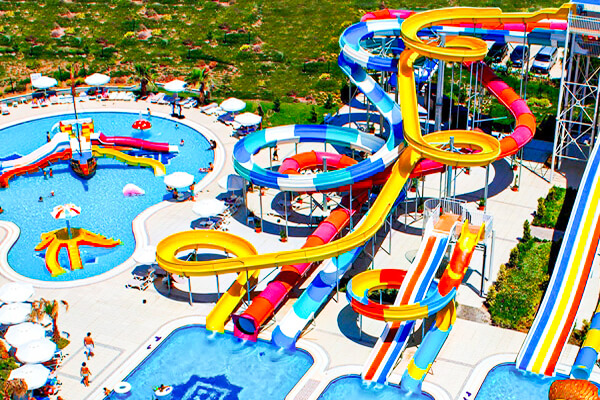 Dinopark Antalya
Antalya Jurassic Park is located in Goynuk and in the Kemer area of Antalya. Its other name is "Dino Park," and it is considered one of the most popular and crowded places in this city, and it is entirely suitable for families.
In this park, they have simulated all kinds of dinosaurs; in such a way that they produce their own sounds, and sometimes they also make movements. This place will be a very suitable place to teach children and familiarize them with our prehistoric animals.
This park has different parts, such as a zoo, 7D cinema, swimming pool, cafe, ride, and souvenir shop, which you can use to create happy moments with friends and family. Dino Park is ready to serve visitors from 9:00 to 8:00.
Kar Dunyasi (SnowWorld)
As you may know, Antalya is one of the cities on the Mediterranean shores where snow is only feasible at its highest elevation; so how can a city that only showers from the sky have a center full of snow? The answer is that with technology, anything is possible; thus, if you are interested in winter sports, take advantage of the thrill of visiting this center.
Snow World amusement park is one of Antalya's most thrilling and appealing parks, with all of its buildings, toys, and slides constructed of snow and ice. This exciting park may provide you with a fun and unforgettable day with your friends and family.
Bring warm clothes, a coat, and a hat to this indoor amusement park so you can play and have fun. This complex has enough ventilation so that you will be comfortable. Among the attractions accessible in Antalya's snow wonderland are steep snow slides, snow slides with tubes, doll and snow houses, and an ice aquarium.
Land of Legends
Land of Legends amusement park is one of Antalya's entertainment and tourism complexes, which offers many options for tourists to have a good time.
The most essential and unique entertainment you can experience in this park is the possibility of riding a hot air balloon, which allows you to watch a fantastic view of the city of Antalya. Among the amusements available in this amusement park, we can mention the 61-meter roller coaster, free fall, flying carpet, flying swing, 5D cinema, etc., which will increase your adrenaline. Of course, all your fun and excitement do not end only with the things mentioned; Trampoline, as well as the children's playground and other amusements in this park, can create exciting moments for you.