Tasting the local foods of every nation is one of the best parts of traveling. Every city in Iran same in other countries has a unique and special flavor that no one wants to miss it. For ideas on the best restaurant to go for dining, you can read our list of the top 18 Restaurants in Iran.
Jordan Shandiz Restaurant in Tehran
Kicking off our compilation of the most popular restaurants in Iran is the Jordan Shandiz restaurant. what puts this restaurant top-rated is its luxurious architecture and well-trained staff. So, one of the best Iranian restaurants in Tehran is definitely Shandiz. It is situated on Jordan Street, Tehran. You can find a wide range of variety of Persian cuisine and stews there. One of the best cuisines in Shandiz is its Kabab with a toothsome lamb, salad bar, and shish kebab. The unparalleled interior and architecture of this restaurant, and also its special service, are attractive to tourists.
Shahrzad restaurant in Isfahan
One of the oldest and most prestigious restaurants which are located in Isfahan is Shahrzad restaurant. This restaurant was built more than 50 years ago in Charbagh Abbasi Street in Isfahan. You can find many traditional Persian cuisines, seafood, barbecue, steak, and European cuisine. Since this restaurant is full of customers, shows the great quality of meals of this restaurant. The most famous dish in this restaurant is "cholo Garden" which is mean in English " Rice and neck".
Ananda Vegetarian Restaurant in Tehran
Ananda Vegetarian Restaurant which is located in Tehran is the best place for having some healthy vegetarian food and a break from meat. This is an Indian restaurant that offers on the menu some Iranian and Italian vegetarian cuisines, fresh juice, and different vegan option. Pomegranate juice is worth trying.
Haft Khan restaurant in Shiraz
The architecture of Haft Khan is a great combination of recent and traditional elements, with exciting views of the foothills of the Zagros Mountains. "khan" in English means "Table" and "Haft" means seven, so "haft khan" means "seven tables". The complex has seven eatery choices, 5 restaurants, and 2 coffee shops. Coffee Shops offer drinks, smoothies, and snacks, and restaurants offer on their menu both Persian and foreign foods.
The Golden Dragon restaurant in Tehran
Once this restaurant was the only one that offered Chinese cuisine in Iran. This restaurant is popular among the residents because of its menu and hospitality. It is a family-friendly restaurant which has offered tasty cuisines and excellent services for its customers. What makes this restaurant is the fact that its chef uses traditional recipes and fresh ingredients for cooking.
Narenjestan Restaurant in Tehran
Narenjestan restaurant is a famous restaurant in Tehran that serves most kinds of Iranian, Mediterranean, Italian, French, and European foods. It is situated on Sa'adat Abad street and you can try the best taste of Sushi, salads, and soups in this restaurant.
Divan Restaurant in Tehran
Divan restaurant is one of the best eateries in Tehran which is situated in a stylish mall in Tehran, Sam Center mall. You can find traditional Persian dishes along with the modern taste of flavors on the menu of this restaurant. Try everything in this restaurant, you will never regret it.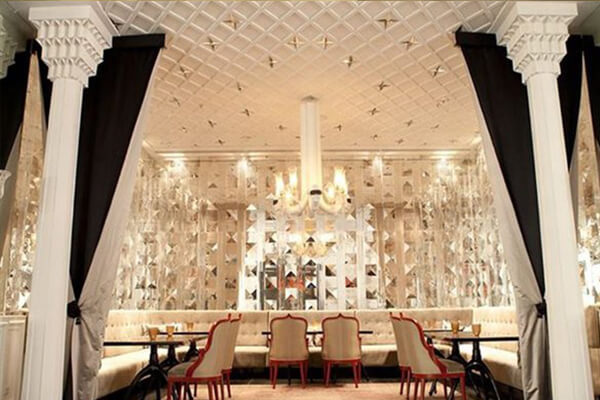 Bistango Restaurant in Tehran
Bistango is a famous place because of its international meals. And often serves European and French cuisine. It also offers some delicious local Iranian meals in a luxe environment along with piano music. So, you can find every taste you want in this place.
Baghe Raaz restaurant in Shiraz
Baghe Raaz which is both a garden and restaurant is located in Shiraz. Baghe Raaz means "secret garden" in English. When you enter the garden, a wooden building will appear. You have two options for eating your cuisine in the dining area, inside the building, and in the Bam-neshin part. The second one is a wonderful roof garden along with a spectacular view. Don't miss this beautiful restaurant.
Saraye Ameriha Restaurant in Kashan
At the Ameriha hotel, you can have your meal while you're looking at the yard through the colorful windows. Dining in the Mirror Hall is an unforgettable experience that can't be repeated in many cities. which is the biggest traditional house in Kashan and was the host of many famous people like actors and ambassadors.
Mestoran Restaurant in Tehran
This restaurant is considered the top restaurant in Tehran and was inspired by the art of the Safavid era and is situated on Niavaran Street. Both traditional foods like Abgoosht, pistachio soup, etc. and international cuisines like steak and shrimp are served in this restaurant. It is good to mention that foods are served in copper utensils in this restaurant.
Marcopolo restaurant in Yazd
Undoubtedly, this restaurant is the best choice for dining in Yazd. travelers can choose their favorite from a wide range of kebabs, stews, and baked bread while they are watching the beautiful minarets and domes of the city. As a recommendation, try the lentil soup, it is tasty but not available every day.
Alborz Restaurant in Tehran
This restaurant is a classic restaurant that makes its famous kebab and is one of the oldest ones in Tehran. You can find the perfect taste and large size of original Iranian kebabs in this restaurant. Alborz Restaurant was opened in 1967 as a small restaurant and barbecue and after several years the place changed, and now it is about 40 years that this restaurant still remained in its same spot.
Kubaba Café Restaurant in Tehran
Kubaba restaurant is popular among the locals and known as one of the perfect restaurants and cafés in Tehran. This restaurant is located in Jordan, with its oriental ambiance, specific inside design, perfect dining menu, and luxuriant Café menu that hosts every individual.
Leon Restaurant in Tehran
This restaurant initially served some of the tasty Iranian kebabs in Tehran along with other Iranian cuisines. At the first, its name was "Banafshe Talayee Leon" which means golden Violet in English. After a while, this restaurant became really famous, not only because of the high-quality food but also its friendly atmosphere.
Terrace Restaurant in Tehran
Terrace which is situated in Tehran is a two-story restaurant with an open-air terrace. The inside of this restaurant has an elegant modern creamy design and can catch every attention. The terrace is popular among the locals and has a chic ambiance with a delicious menu.
Rebelan Café Restaurant in Tehran
The luxurious ambiance, brilliant outdoor area, and wonderful view of the mountains made this restaurant one of the famous places which are located in Tandis Center, Tajrish. This restaurant offers Iranian, Lebanese, Arabic, and International foods with delicious appetizers and even hookahs.
Talar Yazd Restaurant in Yazd
Talar Yazd is among the oldest and most famous places in Yazd. The finest foods of Yazd are Baghali Polo and Mahicheh and you can find them in this restaurant. Talar Yazd has lustrous halls with high-ceiling.