Cultural attractions and architectural marvels, such as the Grand Mosque, the Qasr Al Watan, Emirates Palace, etc., have made Abu Dhabi, the capital of the United Arab Emirates, highly popular.
Recently, though, the city has been expanding its offerings of fun activities for both residents and visitors. In fact, Abu Dhabi has dedicated an entire island (Yas Island) to fun and games. The Yas Waterworld is one of the most popular destinations on Yas Island. Everything you must know about this incredible water park, accessible to anyone with a tourist visa for the United Arab Emirates or Dubai, is right here.
Abu Dhabi's Yas Waterworld is not just one of the world's finest water parks but also the largest in the Middle East. The water park covers an area of 37 acres, which is about the same as 15 football fields. Yas Waterworld, which opened in 2013, features forty rides and attractions, some of which are completely unique.
Like Wild Wadi Waterpark in Dubai, Yas Waterworld features Arabic folklore to honor the Emirati culture. This water park's design was inspired by the legend of the Emirati girl who set out to find the legendary Pearl of the Desert. The huge pearl atop Jebel Dhana, which serves as the focal point of Yas Waterworld, is the park's main attraction. This Emirati legend and the pearl serve as inspiration for the park's many themed areas, decorations, and overall atmosphere.
Famous rides at Yas Waterworld Abu Dhabi
There are around 40 water slides, coasters, and pools at this massive water park. There are different kinds of rides for all ages and levels of thrill-seeking here. We'll check out some of Yas Waterpark's most well-liked and exciting attractions.
The Jebel Drop is a water slide that's as tall as a 10-story structure, making it the largest in the area. In addition to the adrenaline rush of plummeting to the pool below from such a great height, riders on this ride are treated to breathtaking panoramas of the park and the island.
Bandit Bomber, the longest-hanging rollercoaster in the Middle East, is surely one of the most exciting features of Yas Waterworld. Everything about Bandit Bomber is fun, from the thrilling acceleration to the exciting challenge of avoiding the water cannons.
Dawwama is often regarded as Yas Waterworld's top attraction. You and five other people will be hurled from a huge height at high speed on the world's largest six-person tornado water coaster.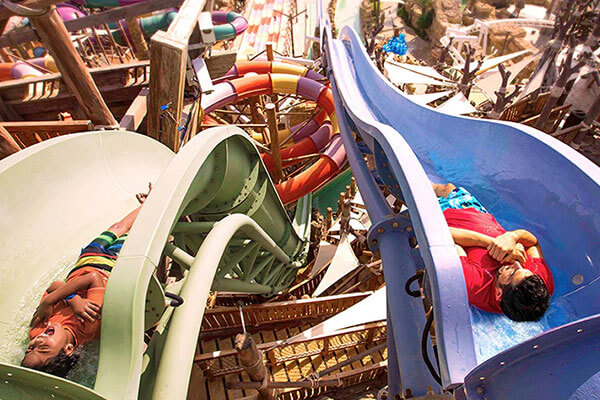 Liwa Loop, the first freefall drop waterslide in the Middle East, is actually one of the best water slides in the area. This water slide winds around and drops you out into the pool below. Bear in mind that this ride is a really thrilling slide, suitable only for the most courageous.
At Amwaj, you may enjoy a day at the beach in the comfort of a water park. Amwaj is a family-friendly wave pool since it features four distinct wave patterns and is accessible to swimmers of all ages.
If you're a surfer, you may now enjoy the sport without traveling to a beach or waiting for ideal wave conditions. Visit Bubbles Barrel instead, the world's largest surfing sheet wave. The perfect place to show off your surfing talents or learn them.
Falcons Falaj is a thrilling water coaster with a series of twists, turns, and steep drops. The Falcons Falaj roller coaster has six seats and is designed for thrill-seeking adults.
You may bring your young children to Yas Waterworld, even though it has several exhilarating rides, slides, and attractions. The small ones may have a blast at Tot's Playground, where they can use the baby pool and slides.
Visit Al Raha River if you need a break from all the action at the amusement park. You may kick back and unwind as your float carries you lazily along the meandering river. While riding, you may take in the water park's scenic vistas.
Cinesplash, Cannon Point, Sebag, Slithers Slides, Water Wars, Rush Rider, Yehal, Rush Rider, Marah Fortress, Hamlool's Humps, etc. are just a few of the other famous attractions of Yas Waterworld.
Some tips for a better visit to Yas Waterworld Abu Dhabi
Rules at Dubai's water parks require similarly conservative swimwear. The water park administration gets to make the call on what constitutes a modest swimsuit.
Modest, cover-up swimwear is recommended. The water park administration gets to make the call on what constitutes a modest swimsuit.
Babies and toddlers should only wear diapers that are waterproof. You may buy these diapers in the water park's gift shop.
The park does not permit any outside beverages or food. Inside the water park, you'll find a wide variety of restaurants and cafés selling food and drink.
Only authorized smoking places in the parking lot are open to smokers.
You may take a break from touring the water park in one of the private cabanas, which can adapt between four and six people.
Apply sunblock and drink plenty of water before heading out to the water park.
How to get to Yas Waterworld Abu Dhabi?
From Abu Dhabi city, Yas Waterpark can be reached in 25 minutes, while from Dubai, it can be reached in 50. There is also a shuttle service for this park that travels between the city centers of Dubai and Abu Dhabi and the hotel. Tour packages that include admission to Yas Waterworld typically also include hotel pickup and drop-off services.