Touring the local markets of Antalya can definitely be one of the best ways to get to know the culture and customs of the people of Antalya, Walking in the local and traditional markets of Antalya is so attractive that these markets can be considered in the list of the top attractions and sightseeing areas of this popular and beautiful city.
And also, by browsing among the different local and traditional markets of Antalya, you can buy the best goods and you can enjoy watching the architectural style and design of some of these markets.
Shopping and sightseeing among various and numerous shopping centers can definitely be one of the most attractive and popular parts of a trip to Antalya. Every person with any kind of taste will welcome shopping, and Antalya is one of those cities which presents several choices in front of its tourists.
The best 6 Antalya Local Markets (traditional Bazaar)
Definitely shopping in luxury malls can be very attractive and pleasant for all tourists, but it is safe to say that walking and shopping in the markets Old and traditional Antalya will be much more excellent and exciting. Here, we will talk about the perfect Antalya Local Markets (Traditional Bazaar) which are as follow:
Lidya Suzani Carpet Gallery
Old Bazaar Antalya
Cumartesi Pazarı
Dogu Garaji Market
Calaichi Market
Antalya Confined Food Market
Lidya Suzani Carpet Gallery
Lidya Suzani Carpet Gallery is undoubtedly a market that all Iranian tourists, particularly carpet aficionados, would appreciate. Watching and purchasing gorgeous carpets with various designs is one of our favorite pastimes, and it is unquestionably one of the fundamental foundations in any Iranian home. In fact, it is impossible to enter an Iranian home without encountering some sort of carpet.
Enter this market if you wish to benefit from the most beautiful and appealing designs of unique and traditional Antalya carpets. With its magnificent characteristics and items, this market, which is among Antalya's historic and ancient marketplaces, has become an exceptional and highly perfect atmosphere for purchasing the best Antalya souvenirs.
In addition to carpets, tourists may find the most magnificent rugs in this market. It is also important to note that if you purchase a carpet from this market, it is better to get the certificate of the age of the carpet from the seller because it will be illegal to export items over 100 years old from Turkey.
Old Bazaar Antalya
Antalya has a traditional and local market in addition to fashionable and sophisticated commercial centers and 5-star hotels. Along with all the commercial centers in this city, the Old Bazaar maintains its vitality and appeal among locals and tourists.
Just beyond Antalya's Old Town, you'll come to Old Bazaar Antalya, a covered and dome-shaped place. You may discover a vast variety of items and services at Antalya's Old Bazaar. You can get anything here, including jewelry and clothing for men, women, and children, leather products like purses and shoes, and a variety of cuisines including Turkish teas and spices unique to this city.
We recommend visiting Old Bazaar Antalya if you enjoy halva, baklava, and Turkish honey. There are also ancient cafés within the market where you may drink tea and eat hot Turkish sweets in a pleasant and nostalgic setting.
The blacksmiths' area, which is located in another section of Old Bazaar Antalya, is where you can buy a wide variety of copper and silver dishes with distinctive Turkish engravings.
The other section of Old Bazaar Antalya is devoted to textiles that are inexpensive yet of high quality. In Antalya's Old Bazaar, you may get a wide variety of affordable souvenirs from Turkey and Antalya. Don't forget to haggle at Antalya's ancient market.
Cumartesi Pazarı
The spectacular and one-of-a-kind daily and weekly markets in Antalya are a popular tourist destination. It should be noted that in addition to shopping in this area, tourists can also enjoy the lovely and idyllic Lara beach.
It is also good to know that tourists can buy copper and old Antalya dishes, buy very cheap and high-quality fabrics, decorative, and eye-catching items in this Cumartesi Pazar. Cumartesi Pazar is held on Saturdays in the most beautiful and attractive entertainment area of Antalya, Lara.
Dogu Garaji Market
Tourists in Dogu Garaji Market may purchase goods such as hand-woven and genuine Turkish carpets, exquisite gold and jewelry, antique copper dishes, perfume, unique Turkish spices, coffee and tea, and colorful clothes. And also, this market offers the best deals on fruits and vegetables, rugs, lovely and varied wooden sculptures, as well as leather goods like bags and shoes.
It's also nice to note that this market is one of Antalya's day markets. Every time you enter this market, you could find a broad variety of different things because vendors offer their various and diversified goods there on a regular basis.
Calaichi Market
Calaichi Market Antalya, which is one of the most popular and popular attractions among visitors in this city, has been able to accommodate a very beautiful and appealing market in addition to numerous attractions; in this section of the city, everything that is needed is offered.
In reality, travelers may buy copper vessels and gorgeous handicrafts in one area and fresh fruits and vegetables in the other, or they can visit the carpets, statues, and ornamental dishes section and see the most beautiful goods. Tourists may enjoy the historical features of this location or notice the traces of Antalya's ups and downs history by entering this market, and they can also buy the greatest and most beautiful things at the best prices.
Antalya Confined Food Market
Since 1996, tourists may view an indoor market with 760 stores called Antalya Confined Food Market, which has become one of the most fascinating and appealing marketplaces for travelers.
It is also important to note that this market welcomes clients at all hours of the day and night. In reality, it is more accurate to say that the food market is open every day of the year, and tourists may get any sort of food that they require fresh from this market. It goes without saying that this market sells extremely fresh produce at ridiculously low prices.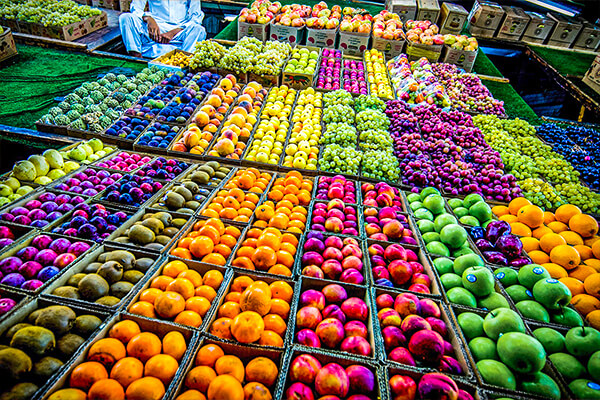 In addition, tourists can buy very popular prepared and factory foods at a very low price in this market. Of course, it is interesting to know that in this market, in addition to selling food and fruits, people can enjoy facilities such as the post office, police department, sports clubs, various banks, and taxi services.