The best traditional baths in Istanbul are the most spectacular historical attractions of this city and the best choice for getting to know the culture of Turkey. Although many of these baths have been renovated throughout history and have lost their traditional atmosphere, you can still find baths in this city that have preserved their traditional texture. Each of these baths is related to a specific historical period, and visiting them is a must to learn about the history, architecture, taste and culture of the ancient Turkish people.
Architecture of Turkish Baths
Each section in the Turkish baths was used with a specific purpose, and in all sections, the observance of Islamic points was considered. For example, In the baths that were built with Roman-style architecture, the cold room was made of cold water pools that were in the form of water tanks, but in the Turkish cold water baths, running water was used to comply with Islamic recommendations. In the best traditional baths in Istanbul, the hot room was used for massaging people and the warm room was used for bathing and washing the body. Also, after bathing, people used to rest by going to the cold room.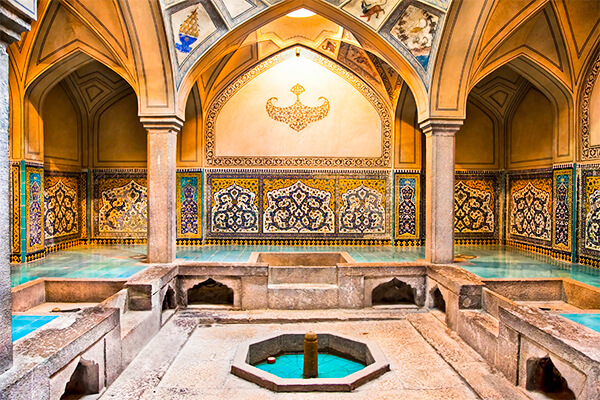 Most of the traditional Turkish bathhouses in Istanbul have separate entrances for men and women, and there is also a section for a shower cubicle and a dressing room in most bathrooms. In the following, we introduce 9 of the most famous Turkish traditional baths that every tourist should visit.
Top 9 Turkish traditional baths
Hurrem Sultan Hammam
Galatasaray Hamam
Cağaloğlu Hamam
Ağa Hamam
Çemberlitaş Hamam
Sofular Hamamı
Mihrimah Sultan Hamamı
Kadirga Hammam
Çinili Hamamı
Hurrem Sultan Hammam
Hurrem Sultan Hammam is an old and traditional hammam in the city of Istanbul, built in the 16th century by an architect named Senan, who was one of the great architects of the Ottoman government. This bath was built for Hurrem Sultan and was used until 1910. Today, this bath is located in the center of the Blue Mosque and in the place of the Hagia Sophia Museum, that's why it is also known as the Hagia Sophia Bath.
After it was abandoned as a spa, Sultan Ahmed converted it into a jail. After being requested by the Turkish government in 2008, a team of architects started restoring this bath in order to make it one of the historical sites available to visitors. The public may enjoy a portion of what is widely considered to be the most magnificent and opulent bath in all of Turkey and all of Istanbul.
Special packages for visitors are available in this area, which is furnished to the same standard as the bathrooms in five-star hotels, down to the massages, silk towels, gold-plated bowls, 100% olive oil soaps, serving of guests, etc. It costs roughly 160 Euros per hour to use this bathroom's services.
Galatasaray Hamam
Galatasaray Hamam is one of the other historical Turkish baths in Istanbul. This bath is also known as Galatasaray Beyoğlu Bath due to its location in Beyoğlu district. The construction of Galatasaray bath was ordered in 1481 AD by Sultan Bayezid II. Unlike other Turkish bathhouses, this bathhouse has completely preserved its traditional texture due to the direct supervision of the Turkish Ministry of Tourism. The texture of this bathroom is so old that upon entering it, you will think that you have entered one of the buildings of the Ottoman period.
Cağaloğlu Hamam
Cağaloğlu Hamam is another spectacular and traditional bath in Istanbul. This bathhouse is so spectacular that its name has been included in the list of must-see places in Istanbul many times, the most important of which is the 1000 Places to See Before You Die book. The sums received from the customers of this bath were used to prepare books for the library of the Hagia Sophia Mosque and the ancillary costs of this mosque. This mosque was designed by Suleiman Agha, one of the royal architects of the Ottoman court, but finally Abdullah Agha, another famous Ottoman royal architect, built this mosque.
Ağa Hamam
Among the other baths that can be mentioned as one of the best traditional baths in Istanbul is traditional Ağa Hamam. This bath was built by order of Sultan Mohammad Fatih and was one of his and his children's private baths. Of course, Ağa Hamam was not in Istanbul at that time and was built in an area called Beyoğlu, which was the Sultan's hunting ground, but today, with the expansion of Istanbul, it is considered one of the traditional and historical baths of this city.
The interesting thing about the traditional Ağa Hamam is that it was purchased by an American citizen. This work was done at the time of the beginning of the Republic of Turkey and was changed to a historical place for tourists by purchasing the bath. Today, this bath can be used by tourists and it offers 4 types of packages that cost between 100 and 180 liras.
Çemberlitaş Hamam
In the list of the best traditional baths in Istanbul, Çemberlitaş Hamam is another spectacular and important bath built by Memar Senan. This bath is not only a place for tourists to visit, but also a place that many researchers, students and researchers visit every year. This bath, which is located near the Mosque of Mohammad Pasha and Sultan Ahmed Mosque, charges less than other Turkish baths. If you decide to visit and use this bath, be sure to choose a sunny day for this. On sunny days, in addition to using the washing packages in the bathroom, you can also enjoy the pleasure of sunbathing on the göbektaşı.
Sofular Hamamı
Sofular Hamamı is another old bathhouse in Istanbul in one of the old neighborhoods of the city, which has a traditional texture and is used by most people. If you want to get to know the Turkish culture, choose this bathhouse in the best way, because to reach it you have to pass through the old houses and local markets of Istanbul. In addition, the cost of using this bathroom is very reasonable, a complete package in Sofular Hamamı costs about 50 lira.
Mihrimah Sultan Hamamı
Mihrimah Sultan Hamamı can be mentioned among other traditional and spectacular baths in Istanbul. This bath was also built by the architect Senan, the oldest and most famous architect in Turkey, and especially for the daughter of Sultan Suleiman, Mihrimah Sultan. This bathroom has two parts, a part for women and a part for men. This bath is the venue for special ceremonies such as the bride and groom's bath, which were mentioned earlier.
Kadirga Hammam
Kadirga Hammam, one of Istanbul's greatest traditional baths, was erected in 1734 by direction of Minister Yahya Pasha. For a long time, the Ottoman Navy utilized this ancient bath, and since it was near to the sea, ship men also used it. This bathroom is one of several that have been refurbished throughout time, and its look is vastly different from the bathroom's initial appearance and design.
Çinili Hamamı
There are many baths in the city of Istanbul that are a special experience both to visit and to use, but among them, Çinili Hamamı, which is also known as tiled bath, is one of the baths that all tourists should visit. This particular bath was built in 1640 AD by the order of Kusham Sultan, one of the most influential women in Turkey. The entire bathroom is tiled and although many parts of it have been destroyed over time, the healthy parts are still beautiful and spectacular. This hammam also has the highest ceiling among the hammams in Istanbul, which makes for better air for its interior.