The country of Thailand, with the official name of the Kingdom of Thailand and the former name of Siam, is a country on the peninsula of India and China. Another meaning of this country is Hori or Tai land, which is generally known by this name among tourists. Thailand is one of the most touristic countries in the world and has built many recreational and welfare facilities and services for tourists.
Geographical location of Thailand
The area of Thailand is about 513 thousand kilometers, and there are about 64 million people. This country is geographically located in Southeast Asia, bordering Burma and the Andama Sea to the north and west, Laos to the northeast and east, and Malaysia and the Gulf of Thailand to the south. The geographical location of Thailand is as follows:
Southeast Asia (15°N and 100°E-Northern Hemisphere)
The area of land borders is 4868 km
The area of maritime borders is 3219 km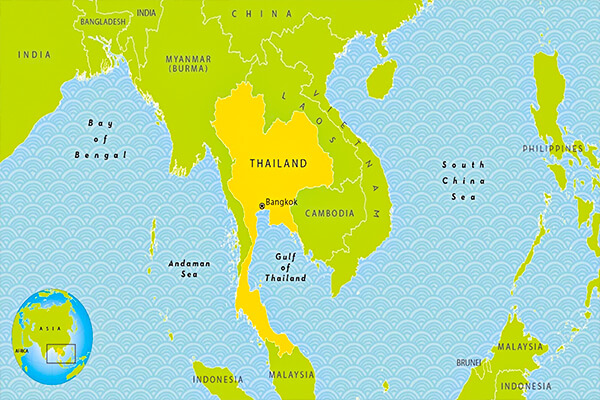 An Introduction and History of Thailand
Thailand has been a constitutional monarchy controlled by a prime minister and a parliament since 1932. People, especially tourists, have a unique and holy place for the royal status and the head of the government. Thais built a tiny city at Sukhothai in the early 14th century, and by the middle of the century, this city had become an independent monarchy. Tourists can plainly witness Thai culture and customs, as well as the country's gorgeous architecture.
The capital of Thailand is Bangkok, which is the most populated city in the country. The language of the people is Thai, and their religion is Buddhism. Among the most populated and large cities of Thailand, in addition to Bangkok, we can mention Nakhon Ratchasima, Samut Prakan, and Chiang Mai. Thailand is the land of beauty and smiles and is considered the best destination for a unique vacation.
The former king of Thailand played an important role in stabilizing the country due to several military coups during his reign. He also helped his people a lot to live. Current Thailand was established in 1238 AD, and unlike other countries in the region, it was never colonized or under the rule of Europeans. In addition, Thailand well preserves the meaning of its name, which is the land of freedom, and the word THAI, which means free man.
Thai Culture and Customs
For every tourist who enters Thailand, the first thing that catches his/her attention is the laughter and smiles of Thai people. Laughing or smiling without introduction may be a surprise to the audience in other countries, but in Thailand, laughter and smiling are part of the nature of the people of this country. The smile of Thais has different meanings. When Thai people are joyful, they grin and laugh. They often use a smile to express gratitude and apologize. When they are embarrassed, they laugh in a way that conveys their humiliation. Thai people also occasionally laugh when they are upset or when they are furious but don't want to offend anybody.
Thais are very hospitable, but at the same time, class distance is important to them. They are patient and tolerant people and avoid harsh and insulting behavior. When visiting the temples or the royal palace, tourists should wear appropriate and relatively covered clothes and enter these ancient monuments without shoes.
Thai culture is rooted in Indian culture, and its golden age dates back to the time of the Ayutthaya kingdom, which has left unique historical works as well as Thai dances and shows.
In addition to their real names, Thais all have informal and usually short names that they call each other. Thailand is a Buddhist country where Buddha images are considered sacred. The punishment for insulting the sanctity is a prison, even if a foreign tourist commits this act.
Touching people's heads or pointing at something with your feet is considered very bad in this country because Thais believe the head is the sacred part of a body and the foot is the most inferior part of the body. Books are considered valuable objects for them, so they should not be placed on the table or floor.
In Thailand, different colors represent the days of the week; yellow is Monday, and since the current king was born on this day, yellow is also the royal color. The existence of flags of this color throughout the country shows the widespread support of Thais for the kingdom.
Thailand Climate
Although Thailand's climate is immensely changeable and each location has its own distinct weather, there is no bad time to visit this stunning nation. Thailand welcomes visitors and travelers from all over the world throughout the year. The weather across the entire nation is cool and balanced in January. This time of year, the north of the nation gets pleasant weather. On the other hand, all of the southern beaches offer cool and gentle weather, making them ideal for sunbathing.
The east coast experiences occasional rains during the start of February, while the remainder of the nation remains hot and dry. A three-day flower and plant expo with a wide selection of flowers and plants will take place in Chiangmai city this month. Winter, spring, and January are the finest times to visit Thailand if you want a special trip.
Security in Thailand
Thailand is a populous country, and in addition to the country's population, the tourist population that visits the country's cities makes Thailand even more congested. The Thai government has a serious issue with security in Thailand, despite the fact that Thailand's tourism industry has expanded significantly.
Pickpockets are constantly lurking in this nation, and the streets are so congested, especially in Bangkok, that you will lose your valuables in the blink of an eye, forcing the police to work.
You should also be aware of the taxi drivers in Thailand who transport visitors from afar to their destinations in order to charge them a higher cost. To avoid any issues, make sure to discuss the fare with the driver before boarding.
Take care of your bag, pockets, and possessions if you utilize public transit, such as the metro or bus.
Thai Currency
The Thai currency has been Baht since the end of the 19th century, and each Baht is divided into one hundred satangs. Common banknotes in Thailand range from 20 to 1000 baht, and all of them have a picture of the current king of Thailand along with other symbols, such as the royal seal.
In this nation, common banknotes include 1000-baht (gray), 500-baht (purple), 100-baht (red), 50-baht (blue), and 20-baht (green), with 10-baht (brown) notes being used on occasion. As can be seen, this banknote was abolished during the Asian economic crisis. In this nation, multiplied coins include 25 and 50 cents (rarely seen), one, five, and ten Baht.
Thai food
Thai cuisine is a fusion of the cuisines of China and India due to the country's position between the two. Thailand's food has no set meal and is mainly steamed or fried. Garlic, red pepper, lemon leaves, coconut milk, tamarind, ginger, black pepper, basil, turmeric, cumin, lemon juice, and fish sauce are all common components in Thai cookery. Thailand's major food is rice, particularly white rice, which is used in practically all meals.
Thai Festivals
In Thailand, many festivals are held throughout the year; among the most attractive Thai festivals are the Thai Spirit Festival, which is held in the last week of the sixth month of the year, the Lantern Festival in November, the Vegetarian Festival Thailand in October, Thailand Wonderfruit Music and Art Festival in December, Loughborough Monkey Banquet in November, Rocket Festival, Buffalo Riding Festival, Thai Candle Festival and Chinese New Year are other good and attractive festivals in Thailand.
Thailand Shopping Malls
Thailand is not only a great place for tourism and enjoyment, but it is also a great place for excellent and inexpensive shopping, particularly in Bangkok. Among the shopping malls in Thailand, you can mention the Central Festival Mall in Phuket, Jang Ceylon Shopping Mall, Big C Shopping Mall in Bangkok, Pen Tip Computer Store, Central Festival Shopping Mall, and Outlet Shopping Mall.
Thailand Tourist Attractions
Thailand is a country of singular and limitless beauty, and to adequately explain it would take days or weeks. Thailand's cities are among the most well-liked tourist destinations in the world.
Phuket is one of Thailand's most beautiful cities, and it is considered one of Thailand's and Asia's top tourist destinations. Phuket is a small and beautiful Thai island that is more expensive than Pattaya and a popular tourist destination for Europeans.
Another draw to Thailand is Phi Phi Island, one of the world's most stunning tropical islands. On Phi Phi Island, there are limestone cliffs, sandy beaches, and secret caves, which can be a lot of fun for adventurers.
James Bond Island, which represents the presence of everyone, has a very beautiful cave in the center, which can be very exciting for tourists.
The coastal city of Pattaya is one of the most popular and beautiful attractions in Thailand, which attracts thousands of tourists every year. Jomtien Beach in Pattaya is another tourist attraction in Thailand that is very famous and popular.
Nong Noch Tropical Garden, Silver Lake, Floating Markets, Ayutthaya Historical City, Chiang Mai Water Elephant Camp, Rail Caves and Beaches, Krabi Shell Cemetery, Maya Bay, and Klang Tam Hot Springs are among other great attractions, and entertainment in Thailand are all worth seeing.