For tourists from all over the world, California consistently ranks among the best places to visit in the United States. California is a fascinating tourist destination because of its many opportunities for adventure and relaxation.
Some of the popular attractions in the US may be found in San Francisco and Los Angeles, the state's two major metropolitan areas. Many of the world's finest cultural landmarks may be located in this area as well.
In contrast, the national parks cover a wide variety of landscapes and provide their own unique adventures. You can find some of the world's tallest and biggest trees in Yosemite National Park, as well as the biggest alpine lake in North America and other world-famous landmarks.
Top 10 Tourist Attractions in California, USA
Whether you're planning a road trip, family vacation, or city getaway, or just want to see the sights, start with our list of the best California attractions.
Golden Gate Bridge
Yosemite National Park
Disneyland
Death Valley National Park
Big Sur
Lake Tahoe
Redwood National and State Parks
Joshua Tree National Park
Universal Studios Hollywood
SeaWorld San Diego
Golden Gate Bridge
San Francisco, one of the gorgeous cities in the United States, deserves to be seen by everyone. The beach and hills offer a beautiful backdrop, but the city's charm lies in its historic districts, parks, places of cultural significance, cultural institutions, and friendly attitude.
Many people's first mental image of San Francisco, and even of California, is the iconic Golden Gate Bridge. Contrasting with the blue of San Francisco Bay or emerging from the fog that frequently blankets the city, the orange frame is a sight to behold. The bridge is beautiful from a distance, but it's much more impressive when you're really on it. Anyways, it still is one of the best attractions in California regardless of your point of view!
Fisherman's Wharf and the notorious Alcatraz Island are also frequented by sightseers. This formerly ominous prison has been transformed into a beautiful national park. Pier 33, next to Fisherman's Wharf, is where the ferries to the island depart.
Address: Golden Gate Bridge, San Francisco, CA.
Yosemite National Park
One of the most beautiful and often visited national parks in the United States is Yosemite in Northern California which is also one of the main attractions in California. Tourists, artists, and sportsmen have been coming to this area for decades due to its breathtaking landscape. One of the nicest things to do in California, if you like nature, is to check this place out.
Yosemite Valley is the heart of the park and home to the majority of the park's most famous attractions. The granite cliffs and enormous waterfalls are two of the park's most eye-catching features; both were sculpted by glaciers during the last ice age. Yosemite's most famous landmarks—including Half Dome and El Capitan—are located here.
Getting out into the countryside on some of the wonderful hiking paths in Yosemite is one of the finest ways to discover the park. These can be leisurely strolls along scenic waterways or strenuous hikes to remote summits and historic places. There are several great campgrounds in the Yosemite region if you plan on staying for a long and not just passing through.
Disneyland
Disneyland, in Anaheim, California, is one of the best places in the United States and one of the top attractions in California to take the kids on vacation. This enormous theme park features several dining and lodging options in addition to its many rides, activities, and performances.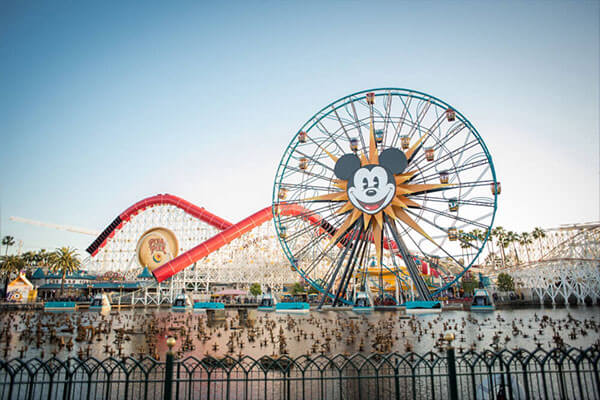 The park features both traditional theme rides and cultural reenactments. There are performances and other forms of entertainment available that are appropriate for both kids and their parents.
Don't forget that your Disneyland experience isn't limited to theme parks. Hotels, restaurants, the Downtown Disney shopping district, and Disney's Adventure Park make up the Disneyland resort as a whole. The parks are probably the main attraction for the kids, but there's plenty of entertainment here for the whole family.
Death Valley National Park
Some of California's most hostile landscape may be found at Death Valley National Park, yet the severe heat has actually given the desert there a unique beauty. This secluded valley features a stunningly diverse scenery that includes salt farms, dry, parched soil, sand dunes, mountains, unusual rock formations, and a lake that falls below sea level.
The sand dunes next to Stove Pipe Wells, Badwater Basin, Zabriskie Point, and Dantes View are some of the most accessible attractions in Death Valley. You can go to all of them and more in a conventional car. More isolated locations, such as The Race Track, are accessible with a 4WD vehicle.
You can visit Death Valley from Las Vegas in a day, but with so much to see and do, you might want to stay longer. You may stop at viewpoints while driving through the park, explore small paths, learn about the valley's industrial past, and even go for a paddle on Badwater Lake if there is water in the lake. This park is surely one of the best attractions in California.
Big Sur
Here on California's scenic Central Coast, you can reconnect with nature, which is also one of the top attractions in California. Some of the greatest spots to go camping and trekking in California are in this area, including Garrapata State Park and Pfeiffer Big Sur State Park.
Located along Highway 1, Big Sur runs from Yankee Point, about four miles south of Carmel, to Salmon Cove, about seventeen miles north of San Simeon. The beautiful shoreline may be seen from this road. There are more than 220 miles of trails in the Santa Lucia Mountains and Ventana Forests to the east.
Lake Tahoe
Stunning Lake Tahoe, perched above the Sierra Nevada Mountains, attracts visitors from all over the world all through the year. Lake Tahoe is more than simply the lake itself; it also includes surrounding woods and mountains, quaint communities, and various recreational opportunities, which makes it one of the best attractions in California.
The blue lake is a summertime haven for boaters, beachcombers, campers, and nature enthusiasts due to its turquoise coves and the surrounding mountains. Families go there in the summer because of the area's attractive beaches and small coves. Some of the best beaches in the Lake Tahoe area may be found in D.H. Bliss State Park and Kings Beach State Recreation Area.
Redwood National and State Parks
There's a lot more to see in Redwood National Park than just giant trees. Visitors may partake in a wide variety of exciting outdoor pursuits in this large parkland's forests, rivers, and miles of breathtaking shoreline. The numerous tourist centers offer informative exhibitions, informative guided tours, and informative nature programs.
Trails are well maintained for horseback riding and mountain biking, and there are opportunities to fish for salmon and rainbow trout and to paddle down quiet rivers in kayaks. Drive along the coast for spectacular views of the ocean and the chance to spot gray whales and seagulls, or take a scenic path through the forest to see the incredible redwood trees, animals, and waterfalls.
Joshua Tree National Park
The gigantic rocks and rock formations in the Joshua Tree National Park have crazy designs that catch the imagination, and the Joshua trees provide a touch of fantasy to this otherwise lunar-like scene. There is a lot more to see in the park than simply Joshua trees; in fact, it encompasses 800,000 acres, and it is one of the top attractions in California.
Some of these attractions are the Cholla Cactus Garden, where chollas stretch out eternally down the slope to the mountains beyond, the remains of the ancient Keys Ranch, the huge palms of the Lost Palms Oasis, and the view from nearly 5,000 feet at Keys View. Don't forget to check out Skull Boulder, a massive boulder that looks like the head of an alien.
Universal Studios Hollywood
If you're visiting California with kids who are a little bit older, they'll love this amusement park and movie studio. All the roller coasters, simulator rides, and other attractions are themed after scenes from well-known films. This amusement park is surely one of the best attractions in all of California.
Studio tours can include visits to enormous sets. The Wizarding World of Harry Potter, Fast & Furious – Supercharged, Jurassic World, Despicable Me Minion Mayhem, and The Walking Dead Attraction are just a few of the park's most visited attractions. There are also restaurants, theaters, stores, and activities happening all year round.
SeaWorld San Diego
SeaWorld is an amusement park in sunny San Diego with a focus on marine animals, exciting rides, and entertaining shows, which is one of the main attractions in California. Dolphins, killer whales, walruses, penguins, and Polar bears are just a few of the marine animals that may be seen in performances, displays, and enclosures in aquariums across the world.
A flume coaster, rafting down Shipwreck Rapids, and a virtual helicopter journey into the Arctic Wild are just a few of the rides available. However, the major draw is the Shamu Show, which features dancing fountains and skilled killer whale performances.