Sharjah city is one emirate of UAE's 7 emirates and the third most important city of the United Arab Emirates. Sharjah is known as the cultural hub of the United Arab Emirates and the reason is the number of museums and galleries that you can find in Sharjah.
Sharjah is technically a different emirate (state) from Dubai but it's only 15 kilometers on road and 20 minutes timewise away from Dubai city. The closeness encouraged a lot of local people to work in Dubai and live in Sharjah and a lot of visitors to stay in Sharjah and go to Dubai for visiting.
Just like the other parts of UAE Sharjah city has a hot desert climate. Sharjah has beaches on the coastlines of both the Persian Gulf and the Gulf of Oman. So, despite the museums, galleries, movie theaters, and all kinds of cultural and artistic places, Sharjah city has magnificent nature that is mostly beaches.
Sharjah city is located in the heart of the United Arab Emirates and has common borders with all other emirates of UAE. The location of Sharjah city is perfect for a visitor to this country. If you choose to stay in Sharjah city you can easily move across the states of UAE and come back to Sharjah for resting.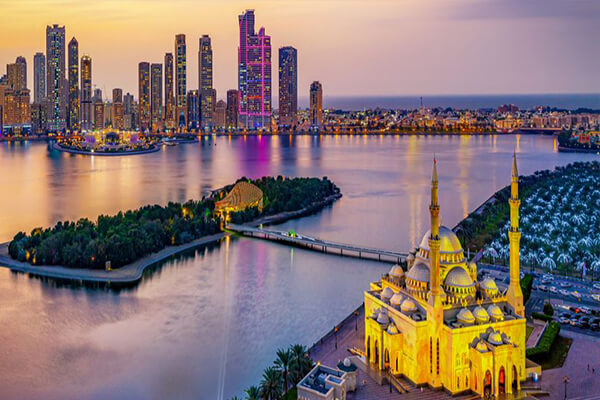 Attractions of Sharjah
Sharjah is the third main city of the United Arab Emirates after Dubai and Abu Dhabi. As we mentioned before Sharjah City is considered the cultural center of the United Arab Emirates because of the museums and cultural centers. Sharjah has some great museums and historical places that present the great heritage and long history of the United Arab Emirates.
Some of Sharjah's most famous attractions that encourage a lot of people to visit this glamorous city on their trip to the United Arab Emirates are:
Sharjah Art Museum: A great museum with 72 permanent and temporary galleries that are mostly focused on Arabian culture and heritage.
Sharjah Blue Souk or the central market of Sharjah: One of the greatest traditional Arabian shopping centers (Souks) of UAE and a great place to purchase souvenirs.
Sharjah Science Museum: The perfect place for teenagers and children to explore and share a great memory with their friends and family.
Sharjah Fort: A historic fort that was built for protecting Sharjah city. You can see the great history and importance of Sharjah city in this place.
Click here if you are looking for a more detailed article about the attractions of Sharjah city.
Transportation in Sharjah City
Sharjah International Airport was chosen as the Global Airport of the Year in 2005 by the ITM or the Institute of Transport Management in London.
They were congratulated and awarded for their customer service, their great marketing, and to solve the problem of traffic in the area.
For transfer in Sharjah city, there are buses, taxis, and cars. Some popular kinds of transportation like subway, electrical buses, motorcycles, etc. are not found in Sharjah city. Taxi and personal cars are very popular in this city. The cost of renting a car for the day will be less than getting a cab for every transfer so it makes sense to rent a car if you are planning on moving a lot in the city.
Some tips for a more pleasant stay in Sharjah city
Sharjah is a more traditional and religious city in comparison to Dubai and Abu Dhabi so you might want to be more considerate. It's better to wear clothes with height under your knee and with sleeves.
Drinking is illegal in Sharjah city even in hotels and restaurants.
Drinking and eating in public spaces are prohibited on Ramadan and restaurants are closed at this time of year. There are some specific places in hotels and shopping centers that offer food and drink to people during Ramadan. You can purchase your food and drink from them but you can't bring it to the public spaces.
Final words
Sharjah is the third most popular city in the United Arab Emirates and one known as the cultural hub of the United Arab Emirates. Some may say that Sharjah is much better than Dubai and Abu Dhabi for travel.
Click here if you are wondering about which city to choose between Dubai and Sharjah for the main destination on your trip to the United Arab Emirates. We did a comparison between these two famous cities in UAE to make the process of decision-making easier for you.