The team of Dubai Safari Park recreated it in such a way that no one has ever done a natural resort for animals in an urban environment like this. This park is closed in summer and it will be open in September, most probably with new and exciting attractions.
This Park presents visitors with interactive and awareness activities with the chance of feeding the animals by hand. For the convenience of travelers along with having fun, some different facilities have been prepared. For example, some of the amenities are Baby changing rooms, Restaurants and kiosks, Toilets, Separate prayer areas, and a First aid facility.
The spectacular attractions of Dubai Safari Park
The elegant lakes and green landscape of Dubai Safari Park catch everyone's attention at first look. the area of this park is about 119 hectares and is separated into different areas each featuring specific topography. There are numerous amounts of vehicles which are taken you around this huge park. Visitors can visit several of the best-known animals in this drive like Arabian oryx, gazelles, and camels. The main Safari is in the Explore village. For having close contact with animals in their resort they transport you to the jungles of Africa and Asia. Visitors can also visit the village and some species of animals such as buffalo, zebra, etc. with specially designed vehicles.
Village of Africa
The African Village is one of the attractions in the Safari park and you can find majestic white lions, African elephants, and giraffes. The highlight of this place is Grand Aviary where you can watch the birds easily. An important feature of this place is the guides who help visitors to recognize the rare birds. The reptile house is another must-visit place.
Village of Asian
The Asian Village is a place of popular animals from the Asian continent. Visitors can learn much exciting information about the native animals from the experts who are keepers and guides. The famous Animal of this spot is the Moon Bear or black bear.
Timelining of Dubai Safari Park
This park is closed in summer, it reopens in September. If you are looking for leisure time and recreational activities, September is the best time for joining Dubai Safari Park.
Kids Farm
In Dubai Safari, there is a special Farm for Kids which is a combination of fun about the farm and a petting zoo. Here, children can learn about farm animals such as goats, chickens, and sheep. There are some activities in the Dubai Safari that kids can do and enjoy like riding ponies, and visiting birds and their aviaries, and they also can connect with nature. Moreover, there are other attractions that kids can have fun and enjoy in the safari park same as feeding the animals like Giraffe, Kids interactive activities, etc.
Time Table in Dubai Safari Park
The times of Dubai Safari Park are from 09:00 am to 05:00 pm every day. If you want to visit the whole of the park, it maybe takes you more than 5 hours so consider the time for planning your visit to have enough time. On the other hand, the daily attractions of Dubai Safari Park have also special timing and it is good to plan your visit according to the timetable of the shows. The schedule of the shows is as follows:
The Bird Show which is a small theatre show start from 10:00 am to 10:30 am and from 01:30 pm to 02:00 pm
The Amazing Creatures of the World which is the big theatre show start from 11:30 am to 12:00 am and 03:00 pm to 03:30 pm
The Raptor Show which is an open field start from 04:00 pm to 04:30 pm
The price of Dubai Safari Park Tickets
The entry fee for Dubai Safari Park is AED 50 for adults, it is AED 20 for children, and for kids less than three is free. The Combo Dubai Safari entry is AED 85 for adults and it is AED 30 for children. Guests who have SANAD Cards are able to bring two companions.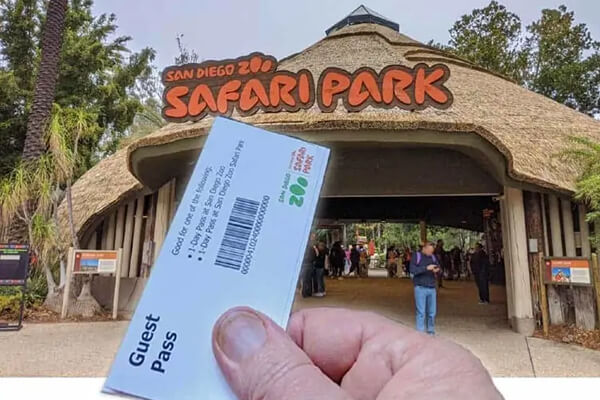 Dubai Safari Park location and the way of getting there
This park is situated in Al Warqa'a 5 and it is easily accessible with both the Road of Al Awir/ Ras Al Khor and the Street of Sheikh Zayed Bin Hamdan Al Nahyan (D54). Using a car is the best way of getting to the park, but those who don't have a car, can use public transportation and the easiest one is the Metro. Consider that, if you use Metro, you would need to take a taxi too and it is about 16 minutes to the Dubai Safari Zoo from the Creek Metro Station.
Some conservation efforts in Dubai Safari park
This park is not just for entertainment, in fact, there is some ambitious purpose behind the establishment of this park. The Safari park is built on a landfill area for transforming the site into reusable. In addition, this park has used some sustainable and eco-friendly technologies like using solar energy for their electric vehicles and facilities or repurposing human foods and also animal waste to reduce the garbage and then use it as fertilizer in this park. Moreover, the Dubai Safari park also protects some endangered animals by using wide scientific research.
Some more Information that you should know
More than 3,500 free parking spots are available in the Safari park, with the opportunity of transporting you to and from the main gate.
The call number of the park is 800900
Their official website has a feedback form, you can leave comments after your visit.
Finally, Our Opinion
The Dubai Safari Park provides a memorable experience with wildlife. We strongly recommended to animal lovers visit this park for having a fun day. And additionally, there has done a lot of works in this park to ensure the animals' life and comfort and it has a remarkable improvement from the limited area of the erstwhile Dubai Zoo.