Memories of a time before the Federation of the Emirates may be found in the Al Fahidi Historic District, also known as Al Bastakiya.
Before the tourism growth, before the discovery of oil, and before the merger of the Emirati tribes in 1971, Dubai looked considerably different from how it does today. Bedouins worked as herders, date growers, and fishermen in the UAE back when it was a collection of independent sheikdoms.
The United Arab Emirates (UAE) has long been an important stop along major international trade routes, such as the Persian routes to Rome, the Silk Road to China, the Portuguese African routes, and the British Spice Route to India, because of its abundance of high-quality pearls.
Dubai was formerly a quiet fishing village with a major harbor. In only a few decades, it changed itself from its humble beginnings on the Creek (Khor Dubai), the place we now call Old Town, or Old Dubai, to what it is today.
Ride an abra across the Creek and check out the historic neighborhood of Bastakiya. The Bastik Quarter, also known as the Fahidi neighborhood, was founded towards the end of the nineteenth century by wealthy Iranian textile and pearl merchants from Bastak.
As you make your way through the maze of narrow streets, keep your eyes peeled for the ochre-colored structures constructed from coral, clay, gypsum, and palm wood. Look up, and you'll see that many of the homes have distinctive towers. Middle Eastern homes typically use wind towers, an ancient Persian device that uses a funnel to direct wind and cool air within a structure. Explore the old town; most of the wooden doors you'll find will lead to hotels, cafés, or galleries.
Top 6 attractions in Al Bastakiya (Al Fahidi Historical Neighborhood)
Al Bastakiya is home to many of Dubai's best historical attractions. Here's a list of the top attractions in the lovely Al Bastakiya.
Gallery Majlis
XVA Hotel and Gallery
Dar Al Nadwa
Sahara Gate
Sheikh Muhammad Center for Cultural Understanding
Architectural Heritage Society
1.

Gallery Majlis

This structure dates back to 1930 and has an area of around 400 square meters. The building underwent refurbishment in 2002. Majlis's architecture, decked up in vintage Middle Eastern furnishings, transports visitors to a bygone era. As a repository for traditional artworks and antiques, it now houses some of the rarest and most valuable works of art in Dubai.

Mira Abdulla Amiri formerly lived in the structure that now houses the Majlis Gallery. It opened in the 1960s and claimed the distinction of being Dubai's first art gallery. It was once a guesthouse for important visitors from nearby regions like Oman and Bahrain until it was converted into an art gallery.

The walls of the Majlis gallery are not used to display artwork but rather function as canvases. They feature work from several different artists spanning several decades. This gallery is surely one of the best attractions in Al Bastakiya.
2.

XVA Hotel and Gallery

If you're looking for a hotel in Dubai's Bastakia neighborhood, look no further, as it is also one of Al Bastakiya's top attractions. Two stories make up the structure, which underwent restoration in 2003. Each room has a view of the charming courtyard and is furnished with a variety of comforts.

Arab painters have their work on display at the XVA Gallery. A hotel, a cafe, and a gallery all in one building. Vegetarians will be pleased to know that the restaurant offers authentic Middle Eastern vegetarian fare.

The hotel rooms look out into a lovely courtyard. Therefore, XVA is the place to go if you wish to stay in the same structures the local Arabs did a century ago in regal splendor.
3.

Dar Al Nadwa

The origins of this structure may be traced back to the nineteenth century. The 463-square-meter structure was built in 1925 by Mr. Abdul Rahman Mohammad Farooq. Many prestigious events, such as symposia, art exhibitions, conferences, and national and international meetings, have been held there since its refurbishment.

The primary auditorium of Bastakiya is housed in this two-story structure, making it one of Al Bastakiya's best attractions. Throughout the colder months, there will always be something interesting going on here.
4.

Sahara Gate

This 310-square-meter structure can be found in the Al Bastakia neighborhood of Old Dubai and dates back to 1954. After undergoing renovations in 2005, the building has since been used to promote Dubai's cultural and tourist attractions.

As a result, the decor is conservative, with Islamic calligraphy adorning the walls. This beautiful gate is a must-see for everyone visiting the historic district of Dubai.

It's a stunning structure with walls covered with Arabic calligraphy. This beautiful structure is a superb example of the classic Arabic architecture found in Bastakiya; it was built in 1954 by Sheikh Habib al Haji. In 2005, it was donated to the Dubai Department of Culture and Tourism by its original owner and is now one of Al Bastakiya's top attractions.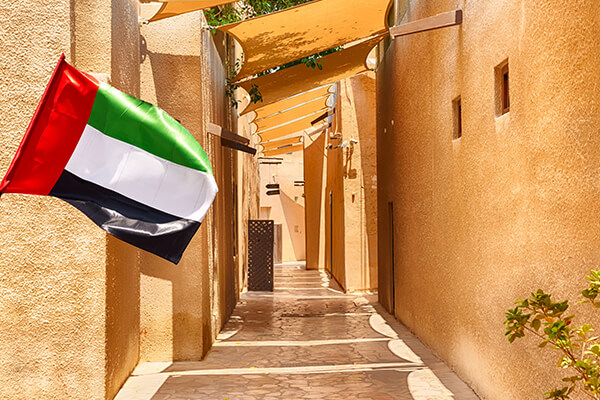 5.

Sheikh Muhammad Center for Cultural Understanding

The Sheikh Mohammed Center for Civilized Intercommunication is located in a landmark building from 1944 that was renovated in the year 2004 and now serves as the site of numerous international conventions and other important gatherings. This 300-square-meter landmark dominates the skyline of Old Dubai, and it is one of Al Bastakiya's best attractions.

The goal of this program is to foster mutual respect and appreciation among Dubai's many cultural communities. At the facility, guests will have access to authentic UAE food and traditional dress. To take part in SMCCU's cultural offerings, you must make reservations through either their website or a third-party tour operator.

Depending on the day you want to come, you may choose from a variety of different packages. Breakfast, brunch, lunch, and even evening tea are all available with a cultural twist. This is a wonderful opportunity to enjoy some of Dubai's traditional food and culture.
6.

Architectural Heritage Society

This is a modest structure for the region, having been built in 1936 on a total of 184 square meters. However, its architecture is among the nicest in the whole of Al Bastakia, making it one of the neighborhood's top attractions.

Since its 2001 refurbishment, when it was rechristened by the Architectural Heritage Society of Dubai, the structure has been used exclusively for that purpose.

A focal point exemplifying the beauty of traditional Arabic design in Bastakiya. It was founded in 2003 with the goal of protecting and documenting the United Arab Emirates architecture.

The structure was completed in 1936 and featured several classic design aspects. Since it reopened in 2003 after being renovated, the Urban Heritage Society has used it as its headquarters.
History of Al Bastakiya (Al Fahidi Historical Neighborhood)
All of Bastakiya's structures are well over a century old. It was likely constructed in the 1890s by Sunni Iranian businessmen who had fled to Dubai from their own country due to religious persecution. Bastak, the original name of their Iranian hometown, became the name of their neighborhood.
In its heyday, the Bastakiya was home to 60 individual homes that were all connected by twisting alleyways. Workers from India, Pakistan, and Bangladesh moved into these homes around the 1950s, when Dubai's economy began to develop. Some were converted into storage facilities.
However, after a few decades, the administration of Dubai chose to preserve them in order to show off its history. In the early 2000s, they were restored to their original forms and opened to the public.
The area between the Dubai Museum and the current entrance to the Bastakiya used to be home to a much denser concentration of structures. Some sets were torn down in the '80s to make way for modern office structures. That was before Dubai ever started to attract tourists. Many crumbling homes were abandoned since no one cared to save them.
The homes of the wealthy back then could be identified by wind towers built atop the structures. Like contemporary air conditioners, these towers aided in keeping dwellings comfortable during hot weather. However, these were rather costly to construct, so people who couldn't afford them erected Arish dwellings instead to survive the scorching summer months.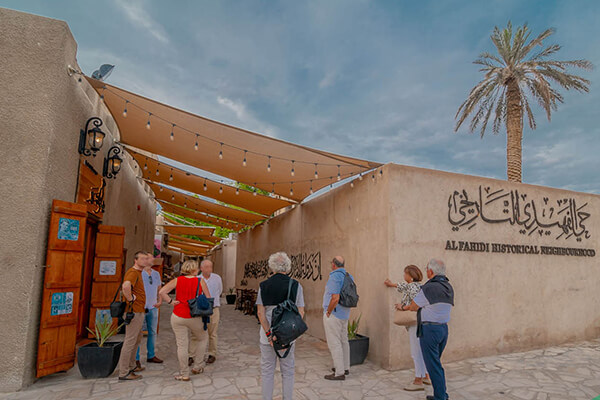 How to get to Al Bastakiya?
Bastakiya can be found on Al Fahidi Road, which is on the Bur Dubai side of the Creek. Al Bastakiya's entrance is conveniently located close to the Al Fahidi roundabout, at the intersection of Al Fahidi Road and Al Hamriya Street. Bastakiya's historic-looking buildings stand out against the city's newer, more contemporary concrete skyscrapers.
The convenience of nearby public transportation is another bonus. The Al Fahidi metro station is around five minutes distant on foot, while the Ghubaiba bus terminal is less than a kilometer away. If you don't feel like changing lines, you may continue walking for another five minutes to reach the Burjuman metro station, which is on the green line.
Final words about Al Bastakiya (Al Fahidi Historical Neighborhood)
In the 1890s, work began on what is now known as Al Fahidi Historical Neighborhood. Sixty dwelling units may be built there at one time, most of them spread out along the area's narrow, twisting pathways.
Al Bastakiya, named after the city of Bastak in southern Iran, was founded by wealthy Persian merchants who were attracted to Dubai by the lucrative trading possibilities and incentives provided by the Emirati government.