Chiang Mai Zoo is a 200-hectare zoo on Huay Kaew Road, Chiang Mai Province, Thailand, located west part of Chiang Mai University. It was established on June 16, 1977. You will immediately notice the zoo's grandeur and scope when you enter it for the first time. It has managed to establish itself as one of Thailand's most stunning tourist destinations. As a result, planning your visit's wildlife path before you arrive is advised.
It is best to be aware that there are cages with lovely animals painted with vibrant tropical flowers in front of the main door to this zoo and that you may begin your tour itinerary from these cages. After viewing the creatures in these exquisite cages, you may take pleasure in viewing an area where the creatures are free to play without any cages.
Of course, in addition to observing animals and their various movements, you can go to a leisure center near a very beautiful lake that is located behind the zoo to have memorable moments. Finally, take a memento shot to remember these times and share it with your friends.
Chiang Mai Zoo Design
The Chiang Mai Zoo has a huge area. Before you start, get to know every part of it thoroughly. Then, visit each part in the order of importance and location, giving yourself plenty of time to see all of your favorite parts. The cage storage area near the entrance door where the smaller animals are kept. Cages in the shape of old zoo cages placed among colorful flowers.
After passing the entrance, you will see the open-air zoo, which is about 40 hectares in size. High walls surround this part of the Chiang Mai Zoo because many species of animals roam freely alongside people. Walking on its sidewalk allows tourists to see animals up close and get to know their way of life. The animal breeding area and leisure areas are at the back of the zoo, next to a nice lake—the ideal spots for a picnic and a hearty meal.
All kinds of animals in Chiang Mai Zoo, Thailand
By entering this zoo, you can enjoy watching 400 different species of animals as well as the stunning nature of this area. You may see many species that have been brought to this zoo from all over the world, including owls from one of Europe's countries, kangaroos and dingo dogs from Australia, as well as giraffes and zebras from Africa and South America, respectively.
But the most interesting animal among all of them will definitely be the Chinese panda bear, which has been able to choose this zoo as its place of residence since 2003. At Chiang Mai Zoo, you can enjoy seeing a variety of Southeast Asian animals, including rare goats, giant cats, and several other species that first lived on Earth more than 7 million years ago.
Panda Bears at Chiang Mai Zoo
Many shows are performed daily in this zoo, and the panda show is easily at the top of the list of entertainment programs. Chang Chang and Lin Hui (Thai people know them as Tian and Tiu) are the zoo's most charismatic and photogenic residents.
They have designed an area for them and carefully put all the cold mountain weather in it. The construction of such a place has cost millions of baht for Thais, but it has made these cold-weather animals a suitable home in the hot weather of this region.
The morning is when pandas are most active. They scream and play, wrestle and play with special toys that they have in their unique homes. If you go to see the pandas in the afternoon, they will be staring at you the entire time. If you want to see the pandas, you must pay 100 baht per adult and 50 baht for each child. If you visit Chiang Mai Zoo, be sure to observe the playful pandas.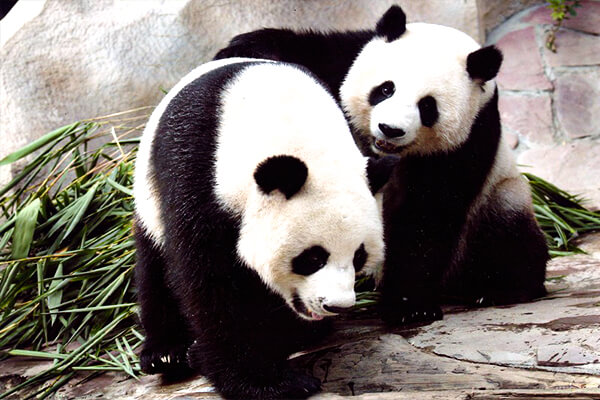 Bird Park
The expansive Nakhon Ping Bird Aviary, which has been dubbed the largest in Thailand, allows visitors to discover a wide variety of more than 132 native and foreign bird species while taking in the picturesque waterfall scenery.
African Animals at Chiang Mai Zoo
Numerous more creatures are also on show. There is a sizable area with African creatures, including the giraffe, ostrich, and hippo, as you enter the zoo. As you go down from there, you will come to the enclosures for tigers, lions, and other big cats.
The white tigers are particularly noteworthy. You may buy chunks of meat for 40 THB each, and across the bars, feed the panthers and jaguars. In order to view the cats, you will likely need to lure them out of hiding in the back of the enclosures.
Primates at Chiang Mai Zoo
A wide variety of primates may also be found within the zoo. The gibbons are the happiest animals. They are in a fantastic enclosure in which they can swing from trees to platforms and other things. The orangutans appeared depressed. The vast bird aviaries, some of which may be entered, are particularly impressive. They have a nice variety of South East Asian birds that are rare.
Koala and Kids Zone
The Koalas were fantastic. In addition to the beautiful and attractive presentation of the enclosures, the entire experience was informative not simply from the perspective of koalas but also from items related to them.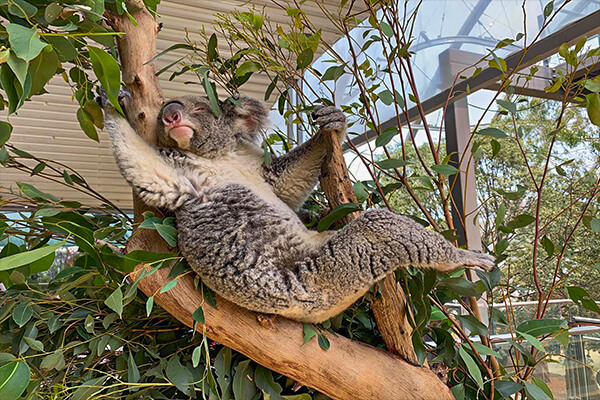 Chiang Mai Snow Dome
Visitors to the Snow Dome, which is next to the Panda House, will experience an approximation of the North or South Pole in the coldest atmosphere with a snowstorm. Additionally, Chiang Mai Zoo continues to make every effort to preserve and disseminate information about wild animals.
Chiang Mai Zoo Aquarium
An aquatic living museum with South East Asia's largest sea tunnel, which permits freshwater and saltwater animals to coexist. One of the world's finest ecosystems awaits you, with approximately 2,000 kinds of marine creatures.
The largest, clearest "SeaTube" tubes in South East Asia will put you right in the middle of a vast, 360-degree aquatic ecosystem. Each of the seven unique habits is a separate ecosystem that can stand alone and is populated by a wide variety of local animals.
Freshwater and saltwater organisms may cohabit under one enormous dome thanks to the architecture of the aquarium. The magnificent Mekong served as the source of inspiration for this amazing idea. The Chiang Mai Zoo Aquarium is not only a popular tourist destination but also a significant location for the research of aquatic life.
General facilities of Chiang Mai Zoo, Thailand
By entering this zoo, people can enjoy different facilities such as the best restaurants in Thailand, drinking water, restrooms, modern and traditional cafes, the most famous Thai food, food stores, and very beautiful and colorful handicraft stalls. You can use various products to make souvenirs of Thailand for your loved ones, and finally, have a great day.
Transport within the Zoo
The zoo spans a wide region with some challenging terrain. We advise using either the shuttle bus or the monorail, both of which need an additional cost unless you enjoy lengthy treks. The monorail trains are not as good as the bus.
Although it has a wonderful view, the monorail tends to break down more frequently than it is in use. Although the idea behind the monorail was sound, its implementation appears unsuccessful.
Getting to Chiang Mai Zoo
On Huay Kaew Road, next to the university, the Chiang Mai Zoo is located 4.4 kilometers to the northeast of the historic walled city. It is accessible by the Red Songthaew. You may have seen red Songthaews, which are modified pickup trucks with two rows of seating, traveling about the city's core. The White and Blue Songthaews travel different paths. The price for a shared Songthaew should be between 20 and 40 THB per person.
Opening Hours at Chiang Mai Zoo
Daily from 08:00 to 18:00 throughout the year.
Entrance fees at Chiang Mai Zoo
70 Baht for children; 150 Baht for adults (Under 130 cm.), Free admission is given to the elderly, very young, monks, police officers, and members of the military services. The Aquarium and the Panda House have additional fees.
While walking is the best way to view the collection, tram transportation costs 30 baht per person.