The Erawan Museum is one of the most well-liked tourist attractions and is situated in Thailand's Samut Prakan province. The massive three-headed elephant sculpture that graces the Erawan Museum's facade is well recognized. The first and largest hand-carved sculpture ever created is this one. It is regarded as a significant tourist destination and a sacred site by many Buddhists.
Introduction of Erawan Museum
Erawan Museum is best known for its giant three-headed elephant statue. The three-story mansion that is located inside the elephant's body contains extremely valuable antiques and very old artifacts inside it are exposed to tourists. These objects belong to a millionaire and are actually part of his collection, a person whose museum is a part of his property! Even people who are not interested in antiquities and history visit to see this museum which is built in the shape of a gigantic elephant.
Construction on the Erawan Museum began in 1994, and it has been available to visitors since 2003. The structure is 43.6 meters tall, including the elephant sculpture (equivalent of 14 stories building). The elephant is 12 meters in breadth and 39 meters in length. The body of an elephant weighs 150 tons, and its head is another 100 tons. Copper sheets measuring 1.2 millimeters thick and varying in size from 4×8 feet to a size the size of a hand line the outside of the elephant. One hundred thousand sheets of copper overall were carefully and expertly plated one at a time.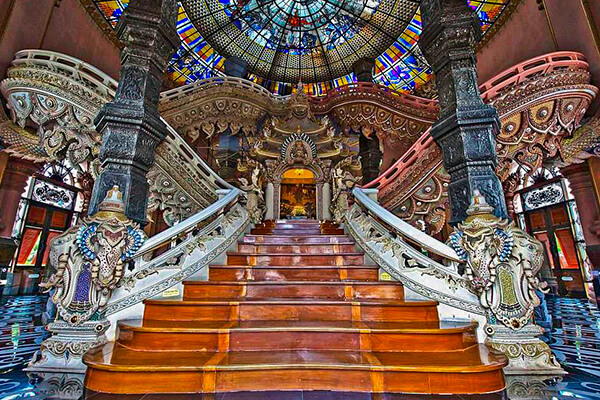 About the Erawan Museum
The name Erawan means "water," "clouds," and "rainbow." It refers to a white elephant with 33 heads and is considered sacred. According to the myth, Indra, the supreme Hindu god, travels in Erawan.
Erawan has unrestricted access to both the Earth and the Heavens. Erawan traveled with Indra to look after people and their welfare. Erawan uses its trunk to transport water from heaven to Earth because Indra's adversary, the god of thunder, causes draught in the realm of the Earth. Erawan, which is typically shown as a three-headed creature rather than the 33 heads it possesses in the narrative for aesthetic reasons, therefore stands for Indra's plenty and benevolence.
Features of Erawan Museum
Thailand's Erawan Museum is a significant example of statue. By going to this museum, you will get to know the rich and mysterious history of Thailand and get to know the culture of the people of this country. Many architectural symbols are mixed with handicrafts. These works have a special integration with nature and the surrounding environment, and because of this, the viewers will be immersed in a dream by watching them. While in Erawan Museum, its atmosphere will overwhelm you, so that you will admire the continuity and continuity of Thai history, culture, religion, art and customs.
The Amazing Architecture of Erawan Museum
According to the Hindu interpretation of the cosmos, which includes the Underworld, Earth, and Heaven, the museum's interior is separated into three major floors. The uppermost story is situated inside the elephant's stomach, while the two lower floors are found inside the pedestal of the artwork.
Suvarnabhumi
Lek Viriyaphant, the founder, gathered priceless artifacts for his own collection, which are displayed on the first level, which symbolizes the underworld. The Ming and Qing dynasties are represented through collections of bowls, vases, and tea sets. The mythological being, a half-Naga, the half-person sculpture is also located on the underworld level. It was created in accordance with the idea that these beings protected the priceless artifacts buried beneath the surface of the sea.
Earth
The second floor symbolizes the ground or the human world. It is home to three major categories of artwork, priceless antiquities, and fine arts, such as Thai ceramics, stained glass, and European pottery.
Cosmos
The top floor is a representation of heaven, which according to Buddhist mythology is perched on Mount Meru. Buddha's treasures and historic Buddha sculptures from various ages are on display in this area in great numbers. German master artist paintings that represent the universe adorn the walls. In addition to this, Thai devotees go to this location to offer worship to the gods Indra and the three-headed elephant. They perform a ritual known as Pu-ra-na-ka-ta in which they float lotus flowers on the lake as a sign of respect. This enables the believers to have satisfying lives and helps keep them safe from harm.
Gardens at Erawan Museum in Bangkok
After viewing the surrealist exhibits at Erawan Museum Bangkok, you may relax in the museum's gorgeous tropical gardens. Explore the rock ponds while feeding schools of carp, crossing little streams, and strolling along stone walkways. The gardens are full with mythological monuments and unusual flora, making for some stunning photo opportunities.
Hours and fee visiting Erawan Museum
If you want to see antique and unique works of art that you haven't seen before, you may visit this wonderful museum for 400 baht for adults and 200 baht for children. Opening hours for this museum are 9 am to 6 pm.
Tour Guide Service
Audio guides in Thai, English, Chinese, Korean, and Russian are provided for museum visitors.
Roundtrip transportation (Shadow Play Showtime)

First round from 9:00 to 10:00 a.m.
Second round from 10 to 11 a.m.
Third round from 11:00 to 1:00 a.m.
Fourth Round is from 12.30 to 01.30.
Fifth round is between 1:30 pm until 2:30 pm.
Sixth Round is from 2:30 to 3:30 p.m.
Seventh round: 3:30 p.m. to 4:30 p.m.
Eighth Round is scheduled between 04.30 – 05.30 p.m.
Visitor Rules and Regulations
Please wear appropriate clothing; no sleeveless garments and above-knee skirts or trousers.
Animals are not permitted.
Help keep the area peaceful and welcoming.
Please assist with keeping the area tidy.
Thank you for not damaging the property.
No food or drinks are permitted.
Please follow the staff members' directions.
How to get to the Erawan Museum
In Samut Prakan province, straight south of Bangkok, the Erawan Museum can be found on Sukhumvit Road, near the Southern Ring Road's intersection.
There are no MRT or BTS Skytrain stations nearby. Metered taxis are the best option for getting there; depending on traffic, they can take anywhere between 30 and 45 minutes from central Bangkok.