Every year, a sizable number of visitors and travelers arrive in Thailand. Thailand often has a warm, humid environment. Now, if we were to select between the hot and cold temperatures of Thailand, we would have to state that it is hot. But it is not irritating so as to bother visitors and tourists.
An Introduction of Thailand and its Climate
Thailand is situation in Southeast Asia on the Indochina Peninsula. The capital of this tourist country is Bangkok. Thailand shares borders with Cambodia from the east, Myanmar and Laos from the north, Malaysia and the Gulf of Thailand from the south. It is also connected to the Andaman Sea from the west. Thailand has an area of about 513 square kilometers and is the 49th largest country in the world.
Nowadays, many tourists travel to this wonderful country to visit the attractions of Thailand. These attractions are very diverse and amazing and they fascinate tourists. This country attracts many visitors due to its tourist attractions.
When traveling to Thailand, it is good for tourists to know some basic information related to the trip, which we will explain in this section.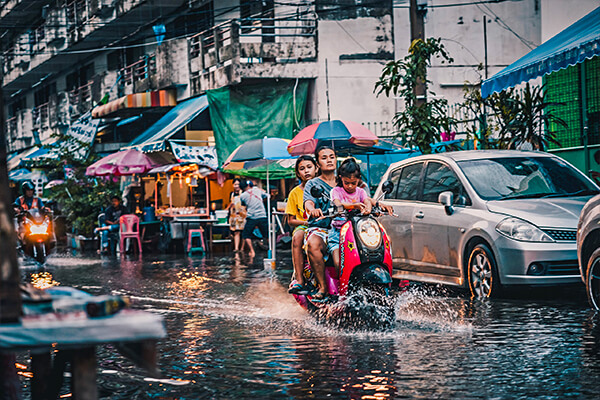 Overview of Thailand's climate
Thailand has a warm and tropical climate. This country is blessed with such a climate due to its proximity to the equator. In addition, due to its location on the equator, Thailand has three seasons and does not have four seasons.
This country is very rich in terms of greenness and soil fertility. In Thailand, the sea wind blows to the slopes of the mountains, so there is high humidity and heavy rain. In this country, in addition to the high heat, there will also be rain and there is a lot of vegetation in these areas.
The air temperature of Thailand is not the same in all its places and cities, and each region has a unique temperature.
The average daily high for the months of February through May is 34 °C. The average temperature in June through October is 29 °C. It is roughly 20 degrees Celsius cooler on average in November. The highest temperature is from March to May.
Types of Weather Prevailing in Thailand
Due to its location near the equator, Thailand is one of the three-season countries. Although this country's calendar has four seasons and twelve months, it only has three seasons in terms of climate, and the features of each season differ from the others. Cold season, hot season and rainy season. In the following, we will describe each one.
Thailand's Weather in the Cold Season
The cold season is from November to the end of February. In this season, tropical rains are less and may even not rain at all. But don't forget that the air temperature drops during this time and the air gets cold. This cold air has nothing to do with the amount of rain. The reason for this is that the rains in the climate of Thailand are of monsoon and tropical type and are not closely related to temperature.
It should be mentioned that while Thailand's southern sections do not experience cold weather during the winter, its northern beaches and northern regions do. This change and temperature difference can be seen in other seasons of Thailand.
Thailand's Climate in the Hot Season
Thailand's hot season, from March through June, is characterized by scorching temperatures. In this season of the year, the temperature sometimes reaches 40 degrees Celsius. High heat in this season causes sweating and dehydration.
Of course, this heat is not very annoying for those who stay near the beaches, but it will be unpleasant for tourists who stay in the capital. Therefore, the beaches of Thailand are the best place to spend time in this season. Every year, a large number of travelers come to Thailand for sightseeing.
Thailand's weather in March is suitable for beach use. In fact, those who love the beaches of Thailand and have set foot in this country for the same purpose have a good opportunity to enjoy their trip.
The Thai New Year falls in April, thus, many travelers change their trip plans to arrive in this nation in April. In the middle of April, there is also a Thai water festival. This time of year, hotels, restaurants and plane tickets are all expensive, and the expense of your trip may rise.
Thailand Weather in the Rainy Season
The rainy season is the season of tropical monsoons. This season lasts from July to October. At this time, the weather in Thailand is rainy. Of course, this does not mean that it rains every day in these months, but the probability of rain is high and the air takes on a certain humidity. Rainfall in this country is sometimes accompanied by snow.
Many tourists travel to this country in the rainy season because rain has a special beauty and makes this country more beautiful. Rain during this season creates happy memories for tourists. Due to the shift in the weather in Thailand this season, many who visited beaches in the past months travel to Samui Island since there is minimal rainfall there.
The Best Months to Visit Thailand
Thailand's climate undoubtedly influences the tourist industry. Thailand is a place where you will have no difficulty traveling at any time of the year.
Thailand's weather fluctuates throughout the year, but if you want to visit during the winter, it is best to visit the country's west coast. Thailand's east coast is lovely all year and may be visited in any season or month.
Thailand travel can generally be among your most enjoyable excursions. Travelers travel to this nation because of the hot, muggy weather and stunning beaches.
Most days of the year, tourists and visitors may be found on Thailand's west and east coasts and there is hardly a day when a tourist is not found there because of the bad weather. The weather in Thailand will leave you with fond recollections.