Like most Gulf nations, Qatar is an Islamic state with a multireligious minority that has experienced waves of immigration over the past three decades. The official state religion is Sunni Islam. The community consists of Shia Muslims and Sunni, Hindus, Christians, and small groups of Baha'is and Buddhists.
Muslims make up 65.5% of Qatar's religious population, followed by Hindus at 15.4%, Christians at 14.2%, Buddhists at 3.3%, and the remaining 1% belonging to other religions or independent religions. There are many other religions in Qatar, especially those from the Middle East and Asia.
Numerous conferences for interfaith dialogue have also taken place in the nation.
Islam is the religion of Qatar
The state religion of Qatar is Islam. Most Qataris are Sunni Muslims. Shiites make up about 10% of the Muslim population of Qatar. The religious policy is determined by the Ministry of Islamic Affairs, and Muslims are required to receive Islamic education in all state-sponsored schools.
The state mosque is the Mohammed bin Abdul Wahab Mosque in the Raybairat district and was designed by prominent Qatari architect Ibrahim Jaida based on traditional Qatari architecture. The Abdullah bin Zayed Al Mahmoud Islamic Cultural Center is located in Doha's Al Souk district, next to Souq Waqif. This center offers Arabic classes for beginners and intermediate learners.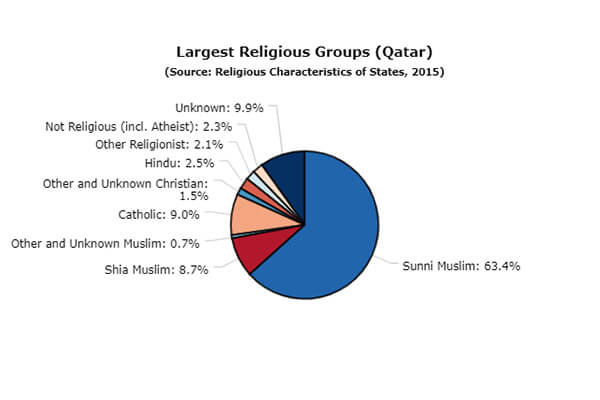 At a higher level, Islamic studies are taught in the Department of Islamic Studies at Qatar University and Hamad Bin Khalifa University (HBKU), where a master's degree is offered. Sheikh Moza bint Nasser, wife of his father Emir and mother of the current Emir, is the most notable alumni.
The Center for Islamic Law and Ethics, a think tank founded by Tariq Ramadan, a Swiss political philosopher, and professor at Oxford University, in 2012, is run by Tariq and is based in Education City. The role of Islam in scientific discoveries is also an area of interest for the Qatar Foundation, which recently established the Association of Islamic Scholars with prominent members.
In 2010, Sheikh Moza bint Nasser published the book Science in Islam as part of a joint venture between Bloomsbury Publishing and the Qatar Foundation.
Hinduism in Qatar
15.1% of Qatar's population is Hindu. There are an estimated 422,118 Hindus in the country. Most Hindus come from South and Southeast Asia
Christianity in Qatar
Qatari Christians are made up of immigrants from Europe, the Middle East, North America, Asia, South America, and Africa. They constitute about 14% of the total population (2010).
There are no foreign missionary groups openly active in the country.
In May 2005, the Qatari government leased land around Doha to representatives of the country's Christian churches to build church buildings. A 2015 study estimated that about 200 Christians are of Muslim background, although not all of them are necessarily nationals.
Buddhism in Qatar
3.0% of Qatar's population practices Buddhism, mostly consisting of migrant workers from Southeast and East Asia, especially China, South Korea, Japan, and Vietnam.
Freedom of Religion in Qatar
Qatar's constitution and certain laws provide for freedom of association, assembly, and religion following the requirements of public order. However, Qatari law prohibits proselytizing by non-Muslims and places restrictions on public worship. Islam is the state religion.
religious demographics in Qatar
A quarter of the population of this country, i.e. more than 2,169,000 people, are citizens, which mostly constitute the Sunni population. Most foreigners come from South Asia, Southeast Asia and Arab countries, work on temporary contracts, and are sometimes accompanied by family members. Most non-citizen Muslims are Shia or Sunni, Hindu, Buddhist, Christian, or Baha'i. The majority of foreign workers and their families reside close to Doha, Al Khor, Mesayed, and Duhan, which are the major employment hubs.
conclusion
Qatar is a small, prosperous monarchy with a population of over two million, but foreigners outnumber local Qataris by about 7 to 1. Qatar's population consists mostly of workers from South and Southeast Asia and many workers from Europe, the United States, the Middle East, and Australia. Although the official religion of Qatar is Wahhabi Sunni Islam, Qatar's culture is in many ways much more liberal than its Wahhabi neighbor Saudi Arabia. Qatar's expatriate community consists of Sunni and Shia Muslims, Christians, Hindus, and small groups of Buddhists and Baha'is.
Qatar's current only border is shared with its much larger neighbor Saudi Arabia, but Iran, Bahrain, Oman, and the Emirates are also nearby, with a planned bridge linking Qatar and Bahrain.