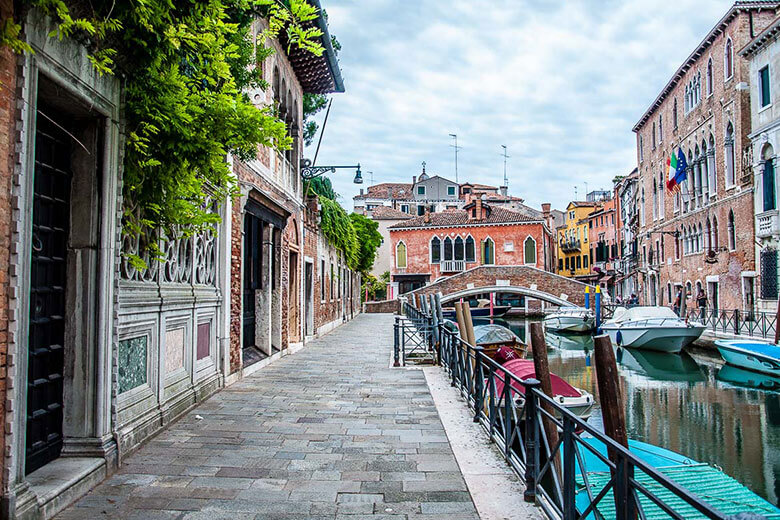 In this article, we explore the enchanting streets of Venice, Italy, taking you on a journey through history, art, and culture. We will highlight twelve iconic streets that showcase the essence of this unique city. Each of these streets holds a special significance, reflecting various aspects of Venetian history and lifestyle. From bustling markets to quiet, picturesque corners, these streets exemplify the enduring charm of Venice.
As we delve into the stories behind each street, you will gain a deeper appreciation for the rich history and cultural heritage that has shaped Venice. Whether you are planning a visit or simply seeking to learn more about this captivating city, this article will provide a fascinating glimpse into the famous streets of Venice.
From bustling markets and lively promenades to serene alleyways and artisan workshops, Venice's famous streets truly capture this enchanting city's essence. As you plan your next visit to the City of Canals, be sure to include these iconic streets on your itinerary, and immerse yourself in the timeless beauty of Venice.
Top 12 popular streets of Venice, Italy
Visiting the Famous streets of Venice is like a journey through history and culture, here you can find the list of the best streets:
Via Garibaldi
Strada Nova
Calle Larga XXII Marzo
Fondamenta della Misericordia
Calle dei Boteri
Salizada San Lio
Calle del Pestrin
Campo San Barnaba
Ruga degli Orefici
Fondamenta dei Vetrai
Fondamenta Zattere
Calle dello Spezier
Via Garibaldi
Via Garibaldi is one of the widest streets in Venice, located in the Castello district. Named after the Italian national hero, Giuseppe Garibaldi, this lively street is renowned for its bustling atmosphere, where locals and tourists alike come to enjoy a true Venetian experience. Lined with colorful buildings, shops, and restaurants, Via Garibaldi is the perfect place to taste traditional Venetian cuisine and shop for authentic souvenirs.
Strada Nova
Strada Nova, which translates to "New Street," is one of the busiest streets in Venice, connecting the Santa Lucia train station to the Rialto Bridge. This bustling thoroughfare is an essential artery of the city, with a constant flow of people coming and going. As you stroll along Strada Nova, you'll discover a mix of historic buildings, souvenir shops, and charming cafes, offering a vibrant atmosphere to immerse yourself in.
Calle Larga XXII Marzo
Calle Larga XXII Marzo is an elegant and sophisticated street located near St. Mark's Square, known for its upscale boutiques and luxury stores. Named in honor of the date of the 1848 Venetian uprising against Austrian rule, this street is a paradise for fashion enthusiasts and anyone seeking a taste of high-end Venetian shopping. Don't miss the opportunity to browse through the latest collections from international designers and admire the beautiful architecture of the surrounding palazzos.
Fondamenta della Misericordia
Fondamenta della Misericordia, situated in the bohemian Cannaregio district, is a picturesque promenade along the Misericordia canal. This peaceful street is a haven for foodies, with its diverse range of restaurants, traditional bacari (Venetian wine bars), and cozy cafes. Stroll along the canal and enjoy the authentic atmosphere, far from the tourist crowds, as you savor delicious cicchetti (Venetian tapas) and local wines.
Calle dei Boteri
Calle dei Boteri, located in the San Polo district, is a charming and narrow street famous for its centuries-old artisan workshops. Once a hub for barrel makers, or boteri, this street continues to celebrate Venice's rich tradition of craftsmanship.
Today, you can find a variety of skilled artisans creating everything from leather goods to bespoke jewelry. A walk down Calle dei Boteri is a delightful way to discover the heart of Venetian creativity.
Salizada San Lio
Salizada San Lio is a lively street in the Castello district, filled with shops, cafes, and galleries. Named after the nearby Church of San Lio, this bustling street offers a delightful mix of history and modernity.
Explore the intriguing antique shops, admire local artwork in the galleries, or enjoy a relaxing coffee break in one of its many cafes. Salizada San Lio is the perfect place to experience the everyday life of Venetians.
Calle del Pestrin
Calle del Pestrin is a small and enchanting street in the heart of the San Marco district, hidden away from the main tourist routes. The name "Pestrin" refers to the milkmen who once occupied this area, delivering fresh milk to the residents of Venice.
This quiet and picturesque street is characterized by its narrow passage and charming pastel-colored buildings adorned with flower-filled balconies. A stroll down Calle del Pestrin is like stepping back in time, offering a glimpse into the city's quieter, more intimate side.
Campo San Barnaba
Campo San Barnaba is a charming square located in the Dorsoduro district, surrounded by the lively streets of Venice. Dominated by the beautiful Church of San Barnaba, this picturesque square is a popular destination for both locals and tourists.
Here, you'll find a lively open-air market selling fresh produce, fish, and flowers, as well as an array of cafes and restaurants. Campo San Barnaba has everything if you're looking for a quiet spot to relax or a vibrant social scene.
Ruga degli Orefici
Ruga degli Orefici is a fascinating street in the San Polo district, known for its long-standing tradition of goldsmithing. Since the Middle Ages, this street has been the center of Venice's gold and jewelry trade, attracting skilled craftsmen from all over Europe.
Today, you can still find exquisite jewelry shops and artisan workshops lining the narrow street, offering a unique shopping experience and a chance to admire the stunning craftsmanship that has been passed down through generations.
Fondamenta dei Vetrai
Fondamenta dei Vetrai, located on the island of Murano, is the heart of Venice's renowned glassmaking industry. This picturesque canal-side street is lined with glass workshops, studios, and galleries, where you can witness the incredible artistry of the Venetian glassblowers.
As you wander along Fondamenta dei Vetrai, you'll have the opportunity to explore the many artisanal shops, watch live glassblowing demonstrations, and even take home a one-of-a-kind souvenir crafted by the skilled hands of Murano's glass masters.
Fondamenta Zattere
Fondamenta Zattere is a long promenade stretching along the Dorsoduro district's southern edge. Facing the Giudecca Canal, it offers stunning views of the neighboring Giudecca Island and its impressive palazzos.
Fondamenta Zattere is an ideal spot for a leisurely stroll, where you can enjoy the sun, savor a delicious gelato, and watch the bustling boat traffic along the canal. The promenade is also home to several notable landmarks, such as the Church of the Gesuati and the Ospedale Marino.
Calle dello Spezier
Calle dello Spezier is a charming and historic street located in the San Polo district. The name "Spezier" refers to the apothecaries and spice merchants who once occupied this area, filling the street with the fragrances of exotic herbs and spices.
Today, Calle dello Spezier is a delightful mix of old and new, with independent boutiques, galleries, and cafes nestled among the medieval buildings. A visit to this enchanting street offers a unique window into Venice's past, while also showcasing its vibrant, contemporary spirit.