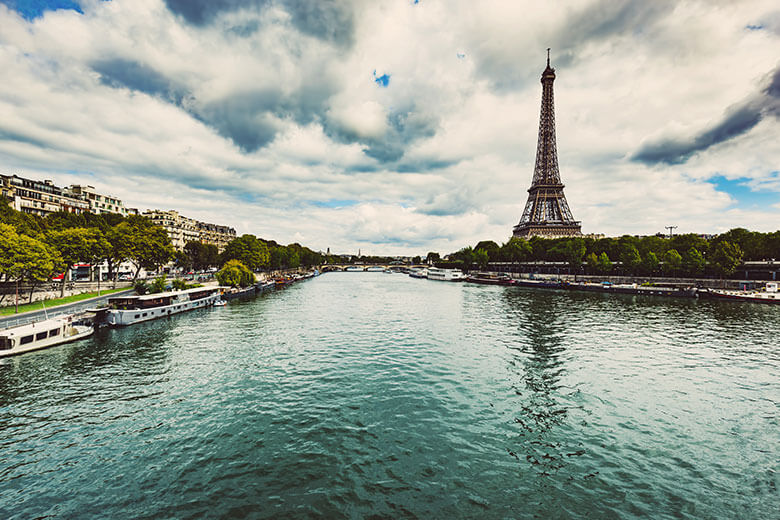 French for "La Seine," the Seine River meanders through the center of Paris, cutting it in half from east to west. Paris was founded beside the Seine River, and its growth is inextricably linked to the River. If we want to introduce a trip in Paris tour that you should not miss, we will definitely recommend a boat ride on the river Saint-Paris.
While enjoying the boat ride and drinking a cup of French coffee on the boat, you will be amazed by the best historical monuments of the city of Paris including Notre Dame Cathedral, Grand Palais and Eiffel Tower and Tokyo Palace. A boat ride on the River Saint-Paris is a unique and amazing experience that you will never forget during your trip to Paris! Another well-liked hobby in Paris is boating, particularly among young couples visiting the city for their honeymoon or holiday.
Travel on the Seine River
The greatest way to view Paris, especially at night, is on a Seine River cruise. Being on the river as the sun sets and the lights come on all around you has a certain allure. The Eiffel Tower, the Musée d'Orsay, the Conciergerie, Notre Dame, and other historical buildings are illuminated on a Seine River night tour, which makes this even more stunning.
You won't be alone either; many Parisians like taking leisurely strolls along the Seine's banks. So, if you're seeking for a distinctive approach to explore Paris, give in to the temptation of a Seine boat!
You will have a wide selection of Seine River cruises to choose from in Paris. Some of these cruises down the Paris River are only for sightseeing, while others include supper and entertainment for an all-inclusive enchanted evening. By hiring a boat for you and your crew, you may even design your own River Seine excursion!
Which Seine River cruise is the finest with such a large selection and so many providers of comparable tours? Here is a quick summary of the top Seine River cruises Paris has to offer, along with our top advice to assist you in making a choice.
Seine River Cruises: Main Paris Sightseeing Boat Companies
Many of the Seine riverboat excursions that offer longer Seine cruises have a number of characteristics.
First off, except as otherwise specified, most Seine cruises halt and terminate at the same location and last for approximately an hour. Additionally, they all roughly follow the same circuit, however, you can verify each one's specific map by visiting the websites of the respective firms. The majority of businesses provide scenic river excursions in Paris all year round.
If you're searching for a meal on board, the majority of these firms also do dinner cruises on the Seine in addition to normal sightseeing excursions (as well as other meals and special event cruises).
While most cruises may be purchased in person near the pier on the same day, you may be able to save money by ordering in advance. Tickets are frequently valid for 3 to 12 months after purchase, giving you flexibility over the time and date of your Seine cruise. Make sure you print off any tickets or vouchers you buy online and bring them with you when you go to the pier to pick them up.
While some of the enterprises operate seasonally, others do so year-round. In the off-season, year-round operators frequently offer fewer trips. The usual season's peak runs from April to September, while the typical seasons lowest runs from October to March.
The information about each firm that offers Seine cruises is outlined below. In order by letter, here are the names:
1.

Bateaux Mouches Seine Cruise

As the first firm to operate cruise ships on the Seine River following World War II, this company's vessels have come to represent Paris in certain ways. A number of the largest boats, including double-decker open-top vessels with bright orange seating, are operated by Bateaux Mouches.
Because they are the largest and often accept walk-on passengers, these boats are undoubtedly the most well-liked on the Seine. However, because of their popularity with tourists, you should expect to ride on a boat with a large number of other travelers.
In good weather, the open-top is fantastic because it offers unimpeded views that are superior to those of some other boats run by other businesses that don't have an additional deck. You will, however, be compelled to enter the glassed-in bottom part of the boat during inclement weather.
2.

Bateaux Parisiens Seine Cruise

There are many medium-sized boats in the fleet of Bateaux Parisiens. Most of the vessels they employ for sightseeing tours have an upper deck that is unenclosed and a lower deck that is enclosed. This is most likely the Seine's second-most well-liked business.
3.

Batobus Seine Cruise

The hop-on, hop-off boats in question make a circuit with 9 distinct stops, all of which are close to popular tourist attractions (such as Notre Dame, the Eiffel Tower, and the Louvre). The Batobus isn't really designed for a sightseeing tour, but if you also want to use it for transit, it might still be a wise financial decision. The entire circle takes roughly two hours if you utilize the boat to go on a sightseeing trip. Every fifteen minutes or so, it pauses.
4.

Canauxrama Seine Cruise

One of the best organizations for canal excursions in Paris is Canauxrama, which also offers picturesque cruises along the Seine River and canal and river cruises. Although the Canuaxrama boats differ slightly, they all feature an open top deck and a closed bottom deck. The two-hour main Seine River sightseeing excursions include a canal tour in addition to the Seine River cruise.
5.

Vedettes de Paris Seine Cruise

Along the Seine River, Vedettes de Paris runs smaller boats. Although the boat layouts vary slightly, each can accommodate about 250 passengers for standard Seine trips.

The typical sightseeing cruises last an hour. Along with lengthier round-trip cruises that take around 2 hours and 30 minutes, they also provide shorter 30-minute stopover cruises that go between the Notre Dame Cathedral and the Eiffel Tower.
6.

Vedettes du Pont Neuf Seine Cruise

Since the 1960s, Les Vedettes du Pont Neuf has run tourist tours from a modest fleet of small and medium-sized boats. Some of the most affordable Seine River cruises are provided by this firm. The standard sightseeing cruises last an hour.
7.

Bateaux de Paris Seine Cruise

The most recent provider of frequent Seine River cruises is Bateaux de Paris. Despite the fact that the business specializes in private events, one of its smaller boats is utilized for seasonally occurring tourist sightseeing tours. Due to its brilliant orange hue, the boat, which is among the smallest ones that conduct regular tours, is simple to recognize.

The firm does not provide cruises every day; instead, it only does so from April to September. The duration of the sightseeing cruises is 1 hour and 15 minutes. Additionally, they provide shorter one-way voyages and voyages with stops at the Eiffel Tower.
Best Private Seine River Cruise
Make your own memories by scheduling a private Seine River trip. Enjoy a drink of wine or a picnic onboard while taking in views of Paris' most stunning boulevard. The ideal private Seine River trip depends on your preferences; there is no optimum option. This private Seine boat trip, which has a similar itinerary to other Seine boat tours, is available for booking.
Alternatively, you may pick a boat that is more suited to you and your cruise (the map on this page indicates where the boats are moored). Let the captain handle the laborious tasks while you sit back, unwind, and enjoy yourself with your significant other, family, or group on one of the majorities of rental boats in Paris.
Best Seine River Dinner Cruise
One of the greatest nighttime activities in Paris is a cruise that includes food. While cruising across the most stunning boulevard in the city, take in the scenery and some of Paris' best-known cuisine. Two Seine River dinner excursions are offered by several boat operators each day, the first departing about 6 p.m. and the second departing around 8 p.m. or later.
Typically, the first Seine River dinner cruise costs less. This is due to the shorter trip and more constrained meal selections. The second supper cruise is more upscale and frequently has live music. Some individuals find that 70 minutes is sufficient time to finish their lunch and take in some of Paris' most breathtaking sites. Others, though, would think that 70 minutes is a little too short.
The time of the cruise is a crucial factor as well, particularly in the summer. Check out the Paris sunset hours if you wish to take this Seine boat at night, and schedule your Seine night cruise accordingly: The 7.10 p.m. Seine River night cruise concludes. This implies that you will be sailing in daylight during the summer.
You may be guaranteed to experience the Paris illuminations during the tour when you take the Seine night cruise at 8 o'clock, at least for the last portion of the voyage. No one will object if you wear your nicest dress or suit despite the fact that the dress code for a dinner cruise in Paris is often smart casual (see out what to wear in Paris here).
Seine River Lunch Cruises
There are other Seine lunch cruises to select from if you'd prefer to eat throughout the day (better for touring), and these are the ones we'd suggest checking out:
A 3-course à-la-carte meal (choice of dishes), live music, wine, coffee, and the chance to upgrade food and drink options are all included in this 2-hour lunch cruise by Bateaux Parisiens. There is a vegetarian option. Cruises leave at Port de la Bourdonnais, close to the Eiffel Tower.
A 3-course à-la-carte meal and coffee are served during this 2-hour lunch cruise onboard La Marina de Paris on board vessels with spacious panoramic windows for stunning views. Drink packages, including wine, are available for 10 euros per person. There are vegetarian alternatives available. Departs from Port Solferino, which is close to the Orsay Museum.
Captaine Fracasse, a firm that specializes in meal cruises on the Seine, offers this 1.5-hour Sunday champagne brunch cruise. Breakfast is served during brunch, which consists of a variety of freshly prepared sweet and savory foods to be consumed while taking in the surroundings, such as croissants, pain au chocolat, apple turnovers, crepes, and fruit.
Along with fruit juice and hot beverages including coffee, tea, and hot chocolate, there is also a half-bottle of champagne supplied. On Sundays only, please. Departs from Ile aux Cygnes, next to the Eiffel Tower and just off Bir-Hakeim Bridge.
Best Seine River Cruise for Families
Which family-friendly Seine River cruise is offered in Paris? A few Paris River cruises are intended specifically for families with young children. Both endure for an hour, and the remarks are more kid-friendly. The Paris Cruise for Kids (with Quiz) includes a booklet that has a children's Paris quiz; however, it is only available in French.
The Family Cruise on the Seine is, in our opinion, the ideal Seine River cruise for families. This Seine River trip includes a humorous guide who is skilled at attracting the attention of young children in both English and French.
Best Time of Year to Take a Seine River Cruise in Paris
Most businesses provide year-round Seine River tours. It is most common to take a river cruise in Paris from April to September, which is also the main season for the operators. The majority of businesses operate more boats and more departures throughout the summer.
Obviously, during the warmer months, the cruises are more enjoyable, especially if you wish to sit or stand outside. During the winter, it may be too chilly or windy to sit outside. If your calendar is open, I'd attempt to go on a day when it wasn't expected to rain.
It might get crowded on the boats, especially during the summer and during school breaks. Typically, there are fewer people on the first and final voyages of the day. We advise going to the port long before your preferred cruise departure in order to acquire your ticket and be among the first in line to board if you are in Paris during a busy period of the year.
Due to the fact that cruises cannot operate in extreme weather, they are frequently canceled during storms. Additionally, they are unable to function if the river levels are excessively high or low. Particularly between November and April, the water levels can sometimes rise to the point where it becomes difficult or impossible for boats to pass under some bridges, forcing cruises to either cease operations or alter their sailings.
Seine River Cruise Tips
Following your selection of a cruise and purchase of your tickets, keep the following in mind:
Any Seine cruise ticket should be purchased in advance since there may be discounts available online. However, you can often purchase same-day tickets in person at the pier for the majority of the basic sightseeing cruises. But reservations and advance booking are often required for the supper cruises and any special event cruises.
There are several Seine River cruise businesses with names that are remarkably similar. To avoid confusion while attempting to locate the departure point, make sure you are familiar with the actual name of the firm with whom you buy your ticket. Even if you purchase the ticket from a third-party vendor like Viator, you should be aware of the name of the boat business.

Cruise Tour, Seine River

Ascertain where the departure point is and allow yourself enough time to get there. The cruise ship departure locations are frequently not at a specific address, which makes it challenging for many individuals to locate them. You must search directly down the river because the majority of the ticket booths are situated along the quays along the river. To discover the boat mooring place and access the riverfront quays, you will frequently need to descend a flight of stairs.
Most boat operators suggest that you arrive at the pier and obtain your ticket at least 30 minutes before departure. However, it varies depending on the cruise line and the kind.
You may download smartphone apps from several boat operators that provide voyage commentary in many languages. Be certain that your cell phone has battery power and that you have headsets on hand if you'd like to try this. Before or after your voyage, you can download the app. On certain voyages, this is now the sole available choice for commentary.
Conclusion
The most effective method to view Paris, particularly at night, is on a Seine River cruise. Being on the river while the sun is setting and the lights are turning on all around you has a certain allure. This famous river flows from the heart of the city from east to west and divides the left and right sides of Paris.