Turkish coffee is well-known around the world, and there is no better location to enjoy a cup of authentic Turkish coffee than in Antalya cafés.
Turkey is the land to some of the greatest coffee in the world. In the summer, the southern seaside city of Antalya is regarded as one of the top tourist destinations in Turkey. With its turquoise water, beautiful beaches, and well-known Turkish friendliness, this city has become a tourist hotspot.
Top 10 Cafés in Antalya
There are several leisure activities in Antalya, like as motorcycling, jeep safaris, and water parks. After doing any of these activities, you will need a chance to rest and rejuvenate. If you prefer to relax on Antalya's beaches, you will undoubtedly enjoy a cup of coffee at one of the surrounding cafés.
Lal Café
Bayramefendi OsmanlI Kahvecisi
Dem-lik Bar Café
Castle Café
Yemen Kahvesi
Mado Café
Coffeetainer Café
Robert's Coffee KonyaaltI
ÇaY-Tea's Café
Caffeebus
Lal Café
Lal Cafe in Antalya is a small but cozy cafe located on Iskele Caddesi. This café features a little wooden hut where coffee is prepared, as well as many tables and chairs in its open space.
Trees and flower bushes surround the cafe, providing a shaded spot to relax, especially during the hot summer months. Cafe Lal is an international cafe, as seen by the numerous flags of several nations hung over the counter.
This café does not offer table service and you must order at the counter. Lal employees are friendly. Depending on the time of day, Cafe Lal provides many menus, all of which are filled with wonderful cuisine and drinks.
Bayramefendi OsmanlI Kahvecisi
Bayramefendi OsmanlI Kahvecisi is one of Antalya's cafés and a slice of heaven with the Aksu river passing by. A little bridge and numerous lovely waterfalls can also be seen near it.
If you want to relax and sip traditional and first-class Turkish coffee, Bayramefendi, one of the greatest cafés in Antalya, is the appropriate spot for you. This cafe's menu includes roughly ten different varieties of coffee, including classic Efendi and Efe coffee in 11 various flavors, as well as the cafe's own coffee, OsmanlI.
Customers are offered the greatest Turkish pastries, each with a unique flavor, at this cafe. In the menu of this cafe, there is Fincan Kek, which is a type of chocolate souffle, which if you try, will be one of the most lasting desserts among your choices.
Dem-lik Bar Café
Dem-lik Bar Cafe looks more like a beautiful courtyard than a regular cafe. Dem-lik is located in KIlIncaslan neighborhood, Zafer Sok 16.
There are many trees and flowers in the open space of this cafe and the sidewalks around the yard add to its beauty. The tables are far from each other; so when you drink coffee, you feel like you are at home. Of course, Dem-lik also has a closed space, which is a combination of a cafe and a bar.
Dem-lik Cafe is a great place to enjoy a cold and refreshing drink on hot and sunny Turkish days. Dem-lik food options are limited but good quality and you can order salad or grilled meat. Dem-lik Bar Cafe is on the list of the best cafes in Antalya.
Castle Café
Castle is a one-of-a-kind cafe in Antalya, perched on a cliff overlooking the Mediterranean Sea and next to the historic Hidirlik tower. This café does not have a closed room, but there is no need for one because it is a summer cafe, and summer in Turkey is hot. As a result, you will not be required to sit inside the café.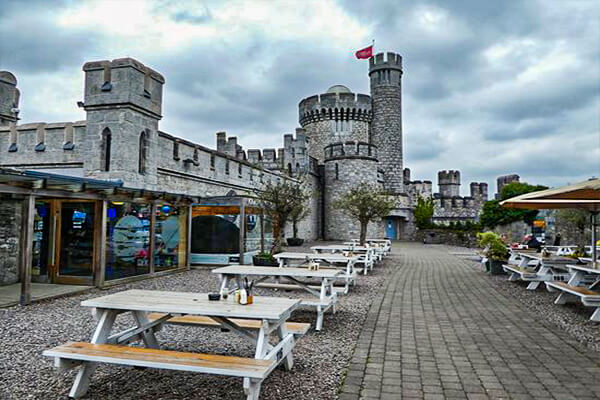 Castle Café in addition to the café is also has a restaurant with an extensive menu. If you visit the castle café, make sure to sample the seafood specialties; you will not regret it for sure. This café offers a variety of beverages in addition to coffee.
Yemen Kahvesi
Yemen Kahvesi (Yemen cafe) in Antalya is very similar to American restaurants located in Murad Pasha area and has a very large space.
There is a space for children to play and have fun inside the cafe. Children can play here and you can drink your coffee in peace.
The coffee menu is impressive. It offers countless methods of roasting coffee along with a selection of the best coffee beans from Brazil, Costa Rica, Guatemala, Kenya, Colombia, and Yemen and also wherever you want. In addition to coffee, Yemen has very delicious ice creams that are wonderful with hot coffee and are considered one of the best cafes in Antalya.
Mado café
In addition to being one of Antalya's cafes, Mado is also considered a bakery. The interior of Mado Cafe is modern and simple by using white and cream colors. The counter is the only thing that stands out in the cafe and with its black color, it destroys the monotony of the colors of the cafe.
Cafe Mado has a very diverse coffee menu and customers will be able to make different choices from the menu. Mado's cappuccino is also very delicious. Mado serves delicious desserts like Kunefe. Kunefe is a delicious Turkish dessert made with cheese.
Coffeetainer Café
Coffeetainer has several branches both inside and outside of Turkey. Because of its success, this café has dedicated more time and attention to enhancing and advertising its coffee.
Coffeetainer has its own stores and sells coffee to countries all over the world. The café itself is a big structure that spans a large area. Its rooftop deck provides an excellent view while having coffee.
The cafeteria personnel dress stylishly and modernly and brew coffee with particular talents. They labor with passion, and you can sense it in the quality of their coffee.
Now, when it comes to coffee, and as we said before, the Coffeetainer produces its own coffee and sells it. This coffee is called gourmet coffee and is made from Ethiopian coffee beans. These seeds make the coffee aromatic and thick and give it a pleasant appearance and delicious taste.
Of course, espresso, Americano, latte and other coffees are offered in the menu of cafes, but none of them are as delicious as gourmet coffee. In addition to coffee, you can order frappe, ice cream, fruit cake and chocolate.
Robert's Coffee KonyaaltI
Konyaalt Robert's Coffee I situated in Kent Meydani, and its lovely architecture is completely built of wood. A playground for children is located nearby. One of the most intriguing menus at this café is the special hot coffee menu, which comprises delectable beverages such as chocolate latte, cinnamon latte, oriental latte, and mocha latte.
If you want authentic coffee, you can choose your drink from 8 different types of coffee from Colombia, Guatemala, Kenya, Ethiopia, Java Island, New Guinea, Costa Rica and Brazil. With so many options to choose from, Roberts Coffee is a true coffee lover's paradise and will keep you coming back for another cup.
In addition to coffee, you can order smoothies, pancake crepes, milkshakes, juice, and foods such as sandwiches, salads, burgers, cakes, and pasta. When you visit Roberts Coffee, you definitely won't leave thirsty or hungry.
ÇaY-Tea's Café
Cay-Tea's Lunchroom & Deco Home is a real Turkish cafe with a strange decoration and is located on Hidirlik Street next to Oscar Cinema. Since this cafe is located in the center of Antalya, it is easy to find.
Its traditional Turkish colour draws the eye from the moment it arrives. Upon entering the cafe, you will be completely mesmerized by the design of the cafe because you will see many styles combined in one place. This weird and fascinating blend was produced by combining eastern and western cultures, as well as modern and traditional styles.
The sophisticated style of one of the rooms evokes the British Empire style in your mind. In another space of the cafe, everything is lit with small lights and creates a classic Turkish atmosphere. This cafe is a marvel of colors and fine details.
Traditional Turkish coffee is prepared and served in small cups with sweets. The taste and aroma of coffee is amazing. The good smell of coffee alone gives you energy and has a positive effect on you. You can also order cappuccino and other types of coffee, but it is the traditional Cay-Tea's coffee that will leave a lasting impression on you.
Caffeebus
This cafe is located near the ancient clock tower of Antalya in kaleiçi and has a creative and funny way of selling and serving coffee. Coffeebus, as its name suggests, is actually a yellow camper van that serves coffee.
This van is located in Selcuk neighborhood and near Mermerli Park. Since this street is a place where a large number of people pass by, it will be a good place to have a drink to get rid of the fatigue of traveling and sightseeing.
You can order traditional Turkish coffee or English coffee (this coffee is known in the world as Turkish coffee) and be sure that both of these will be prepared for you with special care and expertise. As we said before, you can order juice on a hot day. Coffeebus menu may be small, but its drinks and coffees are expertly prepared and worth trying.