Freedom beach in Phuket is one of the top attractions in Thailand and one of the best beaches in this beautiful country. Hidden within a jungle of tropical trees located in Phuket of, Thailand, there's a calm and pristine nature for those who are looking for a peaceful environment to enjoy the beautiful nature of Thailand.
This gorgeous beach, with its white sands, tall surrounding coconut trees, and turquoise and clear waters that you can see underwater and the seabed through the waters, is one of Phuket's main attractions. This 300-meter-long beach is ideal for playing volleyball, scuba diving, renting beach bikes, etc.
Most of Phuket's beaches are crowded, but not far away from the city, you can find a secluded beach hidden among tall coconut trees. Freedom beach is one of the most famous beaches in Phuket, which is famous for its calm environment and variety of recreation and amenity.
There are numerous recreation and amenity options on Freedom beach besides the mentioned ones. Freedom beach is a tranquil place for you to ease yourself under the sky while enjoying exciting water sports and recreation options. Stay with us to learn everything you need to know about this fantastic attraction of Thailand, Phuket.
Recreation, Hobbies & Things to do in Thailand Freedom Beach
As we already mentioned, there are various recreation options in Freedom Beach of Phuket that matches every person's taste, and everyone can enjoy a pleasant stay in this landscape with any condition.
Here are some of the recreation options you get as a tourist in Freedom Beach:
One of the most popular recreation options in Freedom Beach is to sunbathe. There are sunbeds on Freedom Beach where you can relax and sunbathe on them.
Another activity you can do on Freedom Beach is to play soccer beach. There are two small football gates on this beach that you can use to play soccer beach with your friends or family.
Surface diving is another thing you can do in Freedom Beach. The clear waters of this beach are perfect for surface diving. You don't have to go deep in the water to see the seabed. Just by floating on the surface of the water in Freedom Beach, you can see the seabed easily.
There's a restaurant on Freedom Beach serving traditional Thai food and drinks. There's also a Thai massage centre located next to the restaurant where you can get a relaxing Thai massage.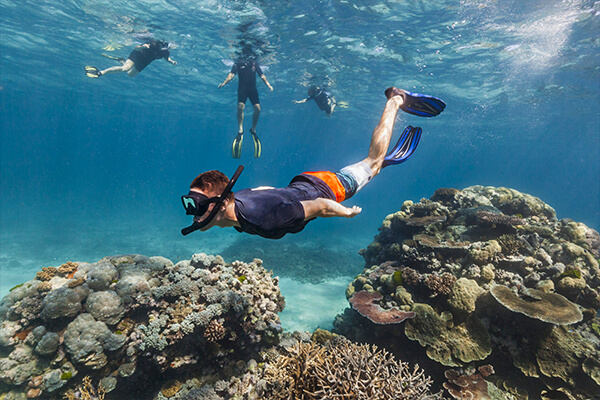 How to get to Freedom Beach
Although it is difficult to get to Freedom Beach, unlike other beaches in Phuket that are easily accessible, every year, this fascinating beach resort's popularity is expanding among locals and tourists.
Located on the west coast of Phuket, a short distance from the road between Patong and Karon beach is a tropical paradise called Freedom Beach. The only option for getting to this glamorous beach is to go there by boat.
The shortest way to get to Freedom beach is to take a boat from the southern end of Patong Beach near the Amari Bridge. Other options are to take a boat from Kata Beach, Kamala Beach, or Karon Beach.
Taking a boat from these three beaches to Freedom Beach will cost more and takes more time than setting Patong beach as your starting point. However, if you like to enjoy nature on the road to Freedom Beach or you are closer to the other three beaches, Kara, Kamala, and Karon might be good choices too.
Final words about Freedom Beach
Pictures taken of Freedom Beach will tell you all about this wonderland's beauty. The pristine, soft, and lovely nature of Freedom Beach reminds you of paradise. You can consider Freedom Beach as the most popular beach in Phuket among tourists, and despite its difficulty in accessibility, it was able to gain more and more fame among locals and tourists throughout the latest years.
There is no sign of noisy motorcycles or jet skis on Freedom Beach. The only noise you hear on this tranquil beach is the noise of boats that take to or pick up visitors from Freedom Beach.
If you are sick of the crowd, hustle, and bustle wherever you go in Thailand and especially Phuket, you can go to Freedom Beach to ease your mind of the pressure and relax a little bit. Freedom Beach is undoubtedly one of the dreamiest places in Thailand that you can visit. Hope this article helps you get a glance at this wonderful attraction in Phuket, Thailand!