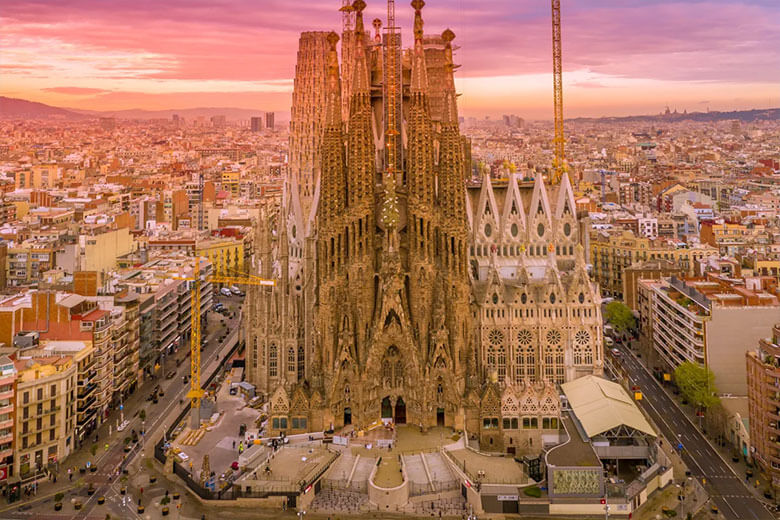 For the modern visitor, Spain is the entry point to a world of centuries-old fortifications, churches, Islam quarters, and forests of columns. Millions of tourists are drawn to the nation each year because of its beautiful landscapes. Spain has a lot to offer tourists, from historical sites to modern attractions, and it will leave an immense impact on your heart.
Traveling around Spain is the best way to see its many hidden gems and world-famous landmarks that are part of the country's rich cultural history. Visitors will have a great time here thanks to the friendly natives, the clear blue waters of the Mediterranean, and the delicious food served across the country.
People from all over the world go here to learn about the rich history and fascinating culture of this country. Museums, castles from the Middle Ages, courtyards, and shimmering beaches are just some of the delights that can be found in each area. Although Spain's top attractions are spread across the nation, visitors may easily spend a day seeing neighboring cities before venturing to the northern or southernmost provinces.
Top 16 tourist attractions in Spain
Here's a list of the best tourist attractions in the beautiful country of Spain.
Park Guell
El Teide (Mount Teide)
Plaza Mayor
The Alhambra
The Great Mosque of Cordoba
Barcelona's Sagrada Familia
Seville Cathedral and Alcázar
Guggenheim Museum, Bilbao
Santiago de Compostela Cathedral
La Rambla
The White villages of Andalucía
Ibiza
Costa Del Sol Beaches
Royal Palace (Palacio Real), Madrid
Ciudad de las Artes y las Ciencias
Toledo Cathedral
Park Guell
As one of Gaud's most remarkable works, Parc Güell is an absolute must-see for every visitor to Barcelona. Park visitors are greeted with sinuous and flowing buildings that imitate the patterns of nature and multicolored tiled mosaics atop Carmell Hill, which is encircled by an emerald-green forest. The park is universally acknowledged as one of Spain's top tourist attractions.
The park, which was constructed between 1900 and 1914 and was designed by Antoni Gaud, features both plants and architectural elements. The Park was recognized as a UNESCO World Heritage Site in 1984, and it is one of the best tourist attractions in Spain.
Mosaics, both on the main terrace and elsewhere in the park, are the park's most recognizable feature. Some sections of the Park require tickets and a wait in order to be entered, while others may be visited by anybody without the need for a ticket or to pay an admission fee.
Address: 08024 Barcelona, Spain.
Timings: every day from 9:30 AM to 7:30 PM.
El Teide (Mount Teide)
On the island of Tenerife, you can find the active volcano El Teide. It is the tallest mountain in Spain, standing at an outstanding 3718 meters above sea level. According to UNESCO, it is the third-tallest volcanic edifice on Earth and is still officially an active volcano.
The volcano, together with the Teide National Park, is one of the best tourist attractions in all of Spain. If you're interested in the stars and want to learn more about them, the observatory is a great place to do it.
El Teide is a must-see if you're going to spend any time in Tenerife. Oh, and don't miss out on the breathtaking views from the cable car journey! If you want to climb Mount Rainier, you must first obtain a permit.
Plaza Mayor
Since the 16th century, when Philip II commissioned his favorite architect Juan de Herrera, creator of San Lorenzo de El Escorial, to create Plaza Mayor, the square has been at the center of Madrid's bustling daily life.
The Plaza Mayor, one of Spain's most popular tourist destinations, has been used for hundreds of years as a venue for everything from the proclamation of a new king to the canonization of saints and the burning of heretics, as well as for public entertainment like chivalric tournaments and bullfights.
The Plaza is a popular meeting area for locals and visitors alike because of the variety of cafés and eateries that line its walkable stone pavement and provide protection from the sun under its arcades.
Address: Pl. Mayor, 28012 Madrid, Spain.
The Alhambra
The Alhambra is a complex in Granada consisting of a palace and a castle, both of which are built on a hilltop. It was finished in the 14th century, at the end of Muslim rule.
It's one of the most well-known Moorish-style structures in existence today and one of the best tourist attractions in Spain. One of the gardens of the Alhambra complex, the Generalife, is often cited as among the most stunning anywhere.
It's a must-see for any traveler because it's a UNESCO World Heritage Site. One must remember that daily admission is strictly capped, and tickets should be purchased in advance to ensure entry.
Address: C. Real de la Alhambra, s/n, 18009 Granada, Spain.
Timings: every day from 8:30 AM to 8 PM.
The Great Mosque of Cordoba
The Umayyads, the first Islamic dynasty, repurposed and reconstructed what had been a temple to the Roman deity Janus in Damascus (modern-day Syria) between the years 661 and 750 to use as a mosque. The Great Mosque of Cordoba is definitely one of Spain's top attractions to visit.
This mosque was transformed into a Christian cathedral in the 13th century, and it now contains a bell tower in the style of the Renaissance, with white marble accents, mosaics reminiscent of Byzantine art, and other eye-catching design elements.
The highlight of the mosque is the prayer hall, which is held up by 856 columns made of jasper, onyx, marble, granite, and porphyry. These items were discovered from the remains of a Roman temple that originally stood in this place.
Address: C. Cardenal Herrero, 1, 14003 Córdoba, Spain.
Barcelona's Sagrada Familia
The Sagrada Familia is one of Gaudi's most iconic structures and is recognized all over the world. It's too bad it hasn't been completed yet; work on it began in the 19th century. Especially on the ceiling and the doors, the church's interior is breathtaking.
A visit to this stunning landmark is high on the list of must-do activities for any visitor to Barcelona, as it is one of Spain's best attractions. It's going to be crowded, so come prepared to wait in line, but it's well worth it.
In 1883, Gaud succeeded the original architect and began construction on his masterwork. A synthesis of Art Nouveau, Catalan Modernism, and late Gothic, La Sagrada Familia portrays the life of Jesus Christ.
Address: C/ de Mallorca, 401, 08013 Barcelona, Spain.
Timings: every day from 9 AM to 6 PM.
Seville Cathedral and Alcázar
The architecture of Real Alcazar, a royal palace originally constructed by Moorish Muslim kings, is unmistakably influenced by Moorish Islamic design. It was first constructed in the 10th century and then renovated in the 11th, and it is among the most stunning palaces in all of Spain.
The Alcázar, Catedral de Sevilla, and Giralda tower together make up a part of what is known as a UNESCO World Heritage Site. Seville's greatest attractions are these three extraordinary buildings from its past which is also one of the best attractions in Spain.
The interior space of the Cathedral of Seville is larger than that of St. Peter's in Rome, and its main altar of sculpted figures is 37 meters in height and is entirely plated in gold. Four enormous statues support the mausoleum dedicated to Christopher Columbus.
Address: Av. de la Constitución, s/n, 41004 Sevilla, Spain.
Timings: Monday to Saturday from 10:45 AM to 5 PM. Sundays from 2:30 PM to 6:30 PM.
Guggenheim Museum, Bilbao
No snapshot has ever done justice to this building's symphony of forms, which are so vibrant they appear about to take wings to fly. Frank Gehry, an American architect, flipped the conventional wisdom on modern architecture on its head by using limestone pillars and undulating titanium skins. This museum is, without a doubt, one of the best attractions in Spain.
He was so effective that his efforts gave rise to not one but two new concepts: "The Bilbao Effect," the idea that a city's fortunes can be reversed by the construction of a single world-class building, and "architourism," a whole region of the travel industry centered around attractions of modernist architecture.
Inside the 24,000-square-meter halls of the museum are temporary exhibits and rotating displays of its own holdings of modern art. Anselm Kiefer, Willem de Kooning, Mark Rothko, and Andy Warhol are just a few of the featured artists.
Address: Abandoibarra Etorb., 2, 48009 Bilbo, Bizkaia, Spain.
Timings: Tuesday to Sunday from 10 AM to 7 PM. Closed on Mondays.
Santiago de Compostela Cathedral
The Archcathedral Basilica of Santiago de Compostela was constructed in 1075, during the time of King Alfonso VI, and is often regarded as Spain's most revered place of worship and also one of its top attractions. St. James the Great, an apostle of Jesus Christ, is said to be buried here, making the basilica an important historical pilgrimage destination and the last visit on the Camino de Santiago.
By the way, you should check out all of Santiago de Compostela. The city is the capital of Galicia, an autonomous community in northern Spain, and it features a charming medieval neighborhood. The Old Town has a mix of Romanesque, Gothic, and Baroque structures and is included as a UNESCO World Heritage Site.
Address: Praza do Obradoiro, s/n, 15704 Santiago de Compostela, A Coruña, Spain.
Timings: every day from 7 AM to 8:30 PM.
La Rambla
Take a stroll along La Rambla on a warm summer evening, and you might be tempted to believe that you're enjoying the street with the whole population of Barcelona. It's the spot to go on summer evenings and weekends after a long week at the office and one of Spain's best attractions.
From the Columbus Memorial at the harbor, this tree-lined boulevard stretches northwest through the heart of the city, creating a green line that is not especially straight.
There are plane trees along the approach to the Plaça de Catalunya, which features a wide pedestrian zone with limited roads on each side. La Rambla is known for its many markets, including those selling flowers and birds, as well as its many restaurants and cafes with outdoor seating.
It has a vibrant vibe thanks to the many painters and musicians who create works of art on the sidewalks, as well as the living sculptures and impromptu performances that fill the streets.
The White villages of Andalucía
Andalusia's White Villages (Pueblos Blancos) are a string of towns located just outside the Sierra de Grazalema National Park that have been painted in a bright, dazzling white. These shining towns pop out of the lush forest and mountain backdrop. The contrast of the green forests and pristine nature of the area with clean white houses make this place one of the best attractions in Spain.
Setenil de las Bodegas is one of Spain's most picturesque towns because of the way its buildings are cut into the cliffs. Budget some extra time to take wander around the center for a closer look and have a cup of coffee in the shade of the rocks.
While Olvera is notable for its hilltop church, from which you may take in panoramic views of the valley, while Zahara de la Sierra is notable for its perch above a reservoir.
Ibiza
Dalt Vila is the name for the historic district of Ibiza, which is rightfully recognized as a world heritage site. The walls of the ancient town are so high that you have to cross a drawbridge to enter.
The small, cobblestone streets within will make you feel like you've stepped back in time. You can see a lot more of the landscape from up on the hills.
The majority of party lovers go to this pine-covered, sun-kissed island. Ibiza is one of the best attractions in all of Spain because of its stunning blue ocean and sparkling nightlife scene. The island's isolated beaches are ideal for those times when you want to run away from it all.
Costa Del Sol Beaches
Costa del Sol is the motherland of some of Spain's most stunning beaches, and its glittering shoreline spans about 100 miles along the country's southern coast. Enjoy the laid-back Mediterranean vibe of this beachfront paradise in Andalusia's autonomous community.
Playa de Burriana and the nearby Blu Flag Playa Malapesquera are two of the best beaches in the Costa del Sol area, and both are surrounded by enticing beach bars and restaurants.
Make sure you spend at least a day of your trip to the country on these lovely beaches as they are one of Spain's top attractions.
Royal Palace (Palacio Real), Madrid
This massive mansion dates back to the 18th century and features 3,418 individual rooms. It was built specifically as a palace for the Spanish royal family, and it still serves that purpose. It's available to the public and only closed for state occasions these days.
Luxury suites are adorned with works of art by Caravaggio and Velázquez, among others. The facade is best viewed from the Plaza de la Armera in the warm Madrid sunshine.
We suggest seeing both the palace and the nearby Catedral of Santa Mara la Real de la Almudena (Almudena Cathedral) during your time in Madrid as they are both some of Spain's top attractions and they are located just next to each other.
Address: C. de Bailén, s/n, 28071 Madrid, Spain.
Timings: every day from 10 AM to 6 PM.
Ciudad de las Artes y las Ciencias
It's also known as the "City of Arts and Sciences" when translated into English. One of the most famous attractions to visit in Valencia and also one of the best attractions in Spain, this complex combines cultural and architectural landmarks.
Construction began in 1996 and was completed and opened to the public two years later at the end of the city park, which was once a riverbed. Various structures compose the "city" itself. An open-air aquarium is only one of the seven structures that make up the L'Hemisfèric, which also features an IMAX theater, a planetarium, and a laserium.
After constantly being flooded, Valencia changed the path of the river running through the city, leaving behind a vast, flat riverbed covered by bridges. Spanish architect Santiago Calatrava, known for his brilliance, used this blank canvas to construct a series of stunning buildings that have become a paradise for followers of modern architecture.
Address: Av. del Professor López Piñero, 7, 46013 València, Valencia, Spain.
Timings: Monday to Thursday from 10 AM to 6 PM. Friday to Sunday from 10 AM to 7 PM.
Toledo Cathedral
It's hard to imagine a more beautiful focal point for the charming city of Toledo than its magnificent cathedral. The cathedral, constructed in the 13th century, is a magnificent example of Gothic architecture. This cathedral is the current administrative center of the Toledo Metropolitan Archdiocese.
The Great Mosque of Toldeo, a former Visigothic Church, is located on the same property as the structure, and they are both considered Spain's top attractions.
Address: Calle Cardenal Cisneros, 1, 45002 Toledo, Spain.
Timings: Monday to Saturday from 10 AM to 6 PM. Sundays from 2 PM to 6 PM.