The Al Wakrah Municipality Family Beach is not a swimming beach but rather a great place to take a stroll, play on the sand, paddle in the water, and have a picnic. Make use of the parks by playing soccer, flying a kite, or cooking out on a BBQ. You'll find that a large portion of the sea is covered by shallow water, making swimming extremely difficult and risky.
The trip to the shore is always worth it. In our instance, the kids were captivated by the huge pools of seawater that formed between the sand bars, so the journey took much longer than we had planned. Little ones will delight in seeing crabs scamper over the sand, in witnessing schools of fish swim right up to their toes, and in finding seaweed and an assortment of shells to collect.
The water is clear, and the beach is soft, but getting there is a bit of a trek. Don't forget to bring your camera to the gorgeous Al Wakra Family Beach so you can capture some priceless moments of your loved ones enjoying the azure waters.
It's hardly surprising that there are lots of beaches, given that the municipality encompasses the whole southern half of the country. There are public beaches, beaches suitable for families, and even beaches where dogs are welcome.
There are gazebos and umbrellas on the main beach to give shade from the noon sun, as well as three amazing playgrounds, a volleyball court, a soccer field, and convenient on-site facilities, including bathrooms, showers, and BBQ grills.
Al Wakra is packed with exciting opportunities for a once-in-a-lifetime adventure. Al Wakra, just south of Doha, is a tiny yet pure oasis in Qatar. Feel the waves of possibility as you go into this realm in search of delight. Let your imagination take you where it will, and make memories that will last a lifetime. You may discover museums, parks, and shops in this part of Qatar.
What to do at Wakrah Municipality?
Al Wakrah Souq is a fantastic place to buy and dine, with a more peaceful atmosphere than Doha's Souq (one of the best things to do in Doha).
Hundreds of stores and eateries can be found at Souq in Al Wakra, which is located to the south of central Doha. It is a popular hangout spot for both residents and visitors because of its convenient location and vast selection. Enjoy yourself by doing something useful, like window shopping or trying out new food at the eateries in this market.
The market sells various items, including but not limited to tea, coffee, apparel, fragrances, homewares, spices, pets, groceries, sports goods, and many more. There are many more types of food available as well, such as American, Arabian, Indian, Italian, and many others.
Al Wakra, one of Qatar's oldest cities, is home to the Abu Manaratain Mosque. This mosque, constructed in 1940, is unlike any other in Qatar. The structure stands out due to the presence of a towering tree. The distinctiveness of Abu Manaratain Mosque extends to its very title.
The name "Manaratain" is Arabic for "two minarets"; however, this mosque only has one. The building's construction has changed throughout time is another evidence of this. One of the best things to do in Al Wakrah is this. Multiple indicators point in the same direction as well.
Visit the museum to learn about the building's history, or come here to pray; either way, you'll feel at peace here. It retains an air of mystery. This mosque is a great pick if you want a trip back in time that is both intriguing and rich in history. In addition to being a beautiful mosque, this location in Qatar is definitely worth seeing. The Abu Manaratain Mosque is notable for several things, including its tall walls, modest pool, and rectangular plan.
Ezdan Mall is a must-see in Wakarah due to its stunning architecture and diverse selection of stores. Shop here for apparel, footwear, accessories, and jewelry from well-known worldwide labels and Qatari designers.
The greatest fishing spot in Wakarah may be found in Port Al Wakrah. At the dock, you'll see many locals casting nets, a time-honored pastime that's popular not only with residents but also with tourists.
The community of Al Wakrah has a long tradition of fishing. What's even better? Even if you're not lucky enough to see somebody fishing or a fishing boat in the harbor, you'll still be treated to a breathtaking panorama of the ocean. However, the sunset is unquestionably the most impressive sight in this area. You can go fishing if for no other reason than to look at the fishing boats at the harbor and out on patrol.
Beaches at Wakarah Municipality
It's no surprise that there are plenty of beaches to visit, given that the municipality encompasses the country's southeastern region. There are public beaches, family-friendly beaches behind locked gates, and even a beach only for dogs.
The Al Wakrah Family Beach is equipped with a restroom/shower facility, lots of parking, and a playground for the kids. At low tide, you'll have a long walk before you reach the water. Your Ehteraz will be inspected at the door for security purposes. No grilling is permitted at this time, but outside food and drink are welcome. Make sure your garbage gets taken care of appropriately.
Visit the Al Wakrah Family Beach for some quality time with the family. Following the fenced-in Family Beach lies the formerly unprotected Al Wakrah Public Beach. There's plenty of room to park, and there are also restrooms.
A dog-friendly beach named "Dog Beach" may be found just adjacent to the Al Wakrah Public Garden. Because of how shallow the water is, it's a great place to let your dog or cat run about. You may even be able to make out a sandbar, depending on the tides. A sedan can bring you there, but it's risky because of the soft sand.
The sand of Al Wakra Park Beach, which is flat, broad, and golden inland, lightens and softens as it approaches the water. Since the shallows go on for such a long distance, swimming there is both dangerous and pointless. However, a stroll down the coast is a lot of pleasure.
In fact, you may discover that it takes longer than expected because of the numerous seawater pools that form between the dunes. The water is crystal clear, and the sand is as smooth as butter, so bring your camera and snap some stunning pictures of your family enjoying the beach and the ocean.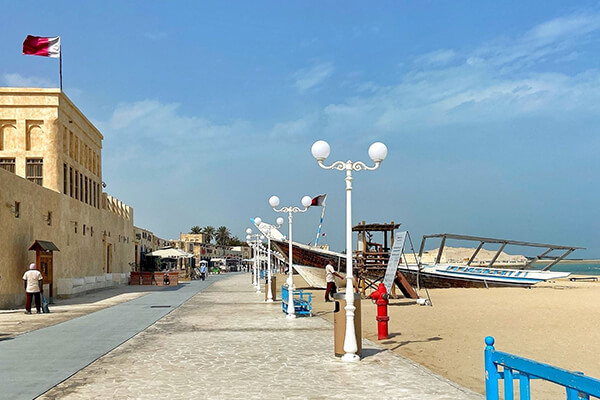 How to get to Wakarah Park Beach?
To go from Doha to Al Wakrah, you can use the Doha Metro Red Line South, your own car, or a cab (including ride-hailing services like Uber and Careem). Currently, Al Wakra South Area (M128 and M134) is serviced by free Metrolink buses provided by Qatar Rail.
From Doha, you may take one of the Karwa buses to Al Wakrah. These include routes 109 (to Mesaieed), 119 (which goes via Al Wakrah Health Center and Ezdan Mall), and 129.
Conclusion
The municipality of Al Wakrah (Al Wakra) was founded in 1972 (together with four others) and has a history steeped in the fishing and pearling industries. Al Wakrah, which is bounded to the north by Doha and to the west by Al Rayyan, is the second-largest municipality in Qatar, with a total area of 2,577.6 square kilometers and a population of 299,037 (as of 2015).
Share your thoughts on this article with us through our social media accounts.