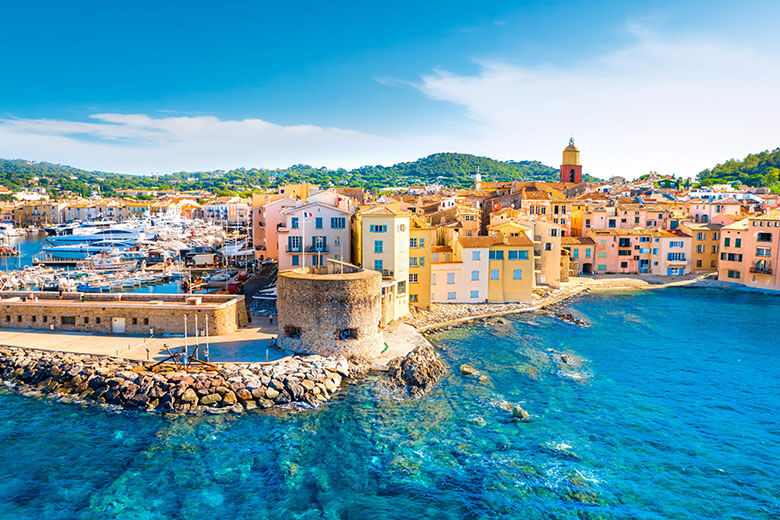 Just the mention of Saint-Tropez conjures up mental pictures of A-listers sunning themselves on the beach, chic boutiques, and expensive yachts. It's hard to imagine that this chic resort town was once a sleepy fishing hamlet.
For a taste of the French Riviera's glitz and glamour, Saint-Tropez is a must-see destination. Gorgeous sandy beaches and exclusive beach clubs can be found in this sunny resort town, which also features a charming old town.
Saint-Tropez, with its pastel-painted homes, winding cobblestone streets, and leafy plazas, exudes an air of the past. The scenery along the coast is just as alluring, with its deep blue waters and Mediterranean landscape of pine forests, olive groves, and cypresses.
Not only should you visit the beautiful French Riviera beaches that draw the A-list to St. Tropez, but you should also check out some of the other great things this town has to offer. The vibrant cultural history of this seaside resort town may be experienced at a number of hip venues.
St. Tropez certainly has a reputation as a "spot on" for the social elite. But if you want to know the finest places to catch the greatest views, meet locals in a vibrant but modest market, and discover the town's beautiful backstreets, then this is the guide for you.
Top 9 attractions in Saint-Tropez, France
Peruse our guide to get a sense of St. Tropez's best attractions so you can begin planning your trip to this wonderful city.
La Ponche: The Old Town
Plage de Pampelonne (Pampelonne Beach)
Citadel of Saint-Tropez – Museum of Maritime History
Annonciade Museum
Place des Lices
Gendarmerie Nationale
Portalet Tower
La Maison des Papillons (Butterfly Museum)
St Tropez Harbour (Port de Saint-Tropez)
La Ponche: The Old Town
The Old Town of St. Tropez has the type of atmosphere that comes to mind when one imagines the charming, character-filled south of France. Getting swept up in its allure is a large part of its attractiveness. Take your time and enjoy the views as you walk down the cobblestone streets and through the maze of small, pastel-colored alleys.
The Church of Notre Dame (Église Paroissiale Notre Dame de l'Assomption) is a major draw to this lively, charming area, and it is surrounded by restaurants, pubs, and cafés.
Below the castle, in the port basin known as Vieux Port, lies the historic district of Saint-Tropez known as "La Ponche." The most beautiful part of Saint Tropez is located at La Ponche, the heart of the old fishing community, which is one of the best attractions in Saint Tropez. A section of it has been designed as a pedestrian mall, complete with winding alleys and picturesque cobblestone roads filled with unique stores, chic boutiques, cozy cafes, and delicious eateries.
Plage de Pampelonne (Pampelonne Beach)
Pampelonne Beach, also known as Plage de Pampelonne, is St. Tropez's nicest beach and one of its top attractions. The town's beach is the longest and most popular attraction since it offers visitors the chance to relax in the sun, swim in the ocean, and play in the sand. This beach is in a beautiful, protected bay close to the town of Ramatuelle.
Even while A-listers go to the expensive beach clubs along Pampelonne, the beach is open to anybody with a towel or the funds to hire a deck chair for a good chunk of its length. Even if Pampelonne doesn't attract you, the public beaches of St. Tropez, such as Plage de Bouillabaisse and Plage des Salins, are gorgeous enough to make you fall in love with them.
The five kilometers of the white sand beach are lined with exclusive private beach clubs that cater to the rich and famous. Clubs provide services such as renting out lounge furniture and parasols, as well as serving drinks and snacks right on the beach. Elegant seaside dining is available at a select few of the clubs.
Citadel of Saint-Tropez – Museum of Maritime History
The city of Saint-Tropez has a long and storied maritime history, which is documented in the Maritime History Museum (Musée d'Histoire Maritime). That predates its current rebranding as a hot spot for the affluent jet set. The museum's position in the crypt of St. Tropez's fortress is both practical and picturesque. This museum is, without a doubt, one of the best attractions in Saint Tropez, which showcases its rich heritage and beauty at the same time.
When you've had your share of the displays of artifacts from trips off the French coast and beyond, you may take in the breathtaking fortress, which dates back to the 17th century. The Citadel has stunning panoramas of the ocean and the surrounding mountains from its many vantage points. La Citadelle, a fortress built in the early 1600s, can be seen for miles from its perch over the town of Saint-Tropez and the Mediterranean below.
Address: 1 Mnt de la Citadelle, 83990 Saint-Tropez, France.
Timings: every day from 10 AM to 5:30 PM.
Annonciade Museum
The Annonciade Museum was established in 1922 to display the works of 20th-century painters who worked in or around the St. Tropez area. The museum got its title since it is located in a converted chapel from the 16th century.
Located in the old Chapelle Notre-Dame de l'Annonciade (Chapel of the Annunciation), the Saint-Tropez Art Museum is a top attraction in the city. Dating back to 1510, this chapel served as the Church of the White Penitents for the Catholic fraternity Confrérie des Pénitents Blancs.
The museum serves as a tribute to the village's creative legacy, showcasing an impressive collection of Impressionist, Neo-Impressionist, and avant-garde works. Pointillist works by Paul Signac, vivid Fauvist paintings by Henri Matisse, and evocative Nabis-style works by Bonnard are just a few examples of the work produced by painters who settled in Saint-Tropez in the late 1890s and early 20th century and are on show here.
Address: 2 Place Georges Grammont, 83990 Saint-Tropez, France.
Timings:

Tuesday to Sunday from 10 AM to 6 PM.
Closed on Mondays.
Place des Lices
Located in the middle of Saint Tropez, this lovely and shaded town plaza (also known as Place Carnot) is close to the Old Port and the Annonciade Museum, which is one of the best attractions in Saint Tropez. In this picturesque plaza shaded by plane trees, Saint-senior Tropez's males continue to play pétanque, the Provençal equivalent of bocce ball.
The Marché de Saint-Tropez, a typical Provençal market, makes use of this plaza every other Tuesday and Saturday morning. Fresh local fruit, veggies, and flowers may be found at the many brightly colored kiosks that will delight visiting tourists.
The Café des Arts is another landmark on the Place des Lices where residents and pétanque enthusiasts congregate. Despite Saint-rise Tropez's fame as a luxury vacation destination, this café has managed to preserve its authentic village vibe.
Address: Place des Lices, 83990 Saint-Tropez, France.
Gendarmerie Nationale
This one-of-a-kind museum celebrates both the cinematic legacy of Saint Tropez and the rich history of the local police force or gendarmes, and it is considered one of Saint Tropez's top attractions. The building houses museum was originally constructed in the 18th century and housed the gendarmerie (police department).
The history of filmmaking in Saint-Tropez is on display, beginning with the Bridget Bardot classic God Created Woman and continuing with French cult films from the 1960s and local productions.
Watch movies shot in and around St. Tropez and, in a lovely crossover that honors the venue's history, observe the many portrayals of French law enforcement throughout cinema. The museum also has displays that dispel the many clichés that surround the glitzy film industry that once thrived in St. Tropez.
Address: 2 Pl. Blanqui, 83990 Saint-Tropez, France.
Timings: every day from 10 AM to 6 PM.
Portalet Tower
The Portalet Tower was constructed as a fort in the 15th century to guard the St. Tropez shoreline and harbor. Only three of the original four defense towers at St. Tropez are still standing, but all four may be visited to learn more about the city's rich past.
When you want to get away from the crowd and take in beautiful views of the port at any time of day or night, the observation tower is the place to go. It is located near the old fishing village of La Ponche, and a second tower, Tour de La Vielle, may be reached on foot in less than 5 minutes by crossing the bay to the east. Make sure you visit this monument on your trip to the city, as it is one of the best attractions in Saint Tropez.
Address: 26 Rue du Portalet, 83990 Saint-Tropez, France.
La Maison des Papillons (Butterfly Museum)
La Maison des Papillons (the Butterfly Museum) is a nice break from sunbathing, sightseeing, and shopping in Saint-Tropez. The museum has more than 35,000 butterflies on exhibit for visitors to enjoy.
The collection features unusual and exotic animals like the black Apollo that have since become extinct. The specimens are shown both in their native habitats and in more abstract arrangements to convey their colors and patterns.
This museum's collection is highly regarded among entomologists. The butterflies on exhibit are likewise a treat for the eyes of the casual visitor. This museum is one of the best attractions to visit in Saint Tropez.
Address: 17 Rue Etienne Berny, 83990 Saint-Tropez, France.
Timings:

Saturday to Wednesday from 2 PM to 6 PM.
Closed on Thursday and Friday.
St Tropez Harbour (Port de Saint-Tropez)
One of the most picturesque spots in this seaside resort is the harbor, known as Port de Saint-Tropez. In addition to being a hotspot for the sailing and luxury boat set, the area is dotted with stylish cafés and boutiques, making it a must-visit for Instagrammers and one of Saint Tropez's top attractions. L'heure d'apéro (aperitif hour) is a culturally significant time in France, and this is the perfect setting for that custom.
Since it is open from dawn until after midnight, Café Senequier is a great place to watch the sunset over the Côte d'Azur while enjoying a cool drink. Bar du Port, a chic and well-named bar, is another excellent option due to its outside seating.
Address: All. du Quai de l'Epi, 83990 Saint-Tropez, France.