Bangkok's artistic community has flourished in recent years. The city's streets are now dotted with various galleries that welcome art lovers and organize exhibitions by regional and international artists. Explore Bangkok's artistic side after touring the city's historical sights and filling up the most excellent cuisine.
Top 16 Art Galleries in Bangkok
It might be challenging to choose which of the many good galleries in Bangkok's downtown alone is the finest because there are literally dozens and dozens of them. Nevertheless, the top 16 galleries in Bangkok listed below routinely present interesting and fascinating shows.
100 Tonson Art Gallery
Bangkok Art and Cultural Centre (BACC)
MOCA (Museum of Contemporary Art)
Bangkok CityCity Gallery
Bangkok University Gallery (BUG)
Bangkok National Art Gallery
Kathmandu Photo Gallery
La Lanta Fine Art
Rotunda Gallery at Neilson Hays Library
Thavibu Gallery
Tang Contemporary Art
Queen Sirikit Gallery
MOST Gallery
SAC Gallery
H Gallery
Thailand Creative and Design Centre
100 Tonson Art Gallery
A remarkable private art gallery with a 100 square meter overall size, 100 Tonson Gallery. The Gallery features works by Thai and foreign artists and attempts to promote the current art scene. Paintings, sculptures, and photos are displayed with installations, new media, and conceptual art. The 100 Tonson Art Gallery, which is located in Lumphini, is about a kilometer southwest of the Phloen Chit BTS Skytrain Station.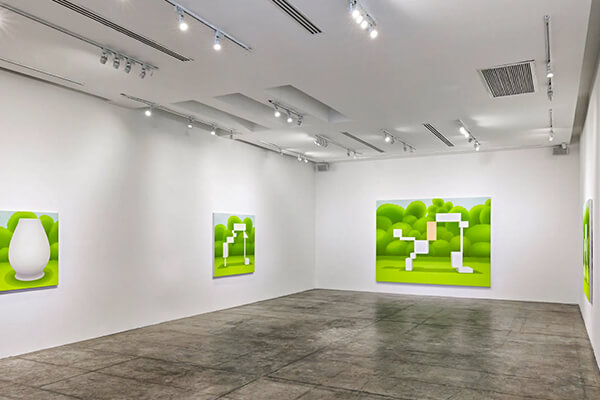 Bangkok Art and Cultural Centre (BACC)
The Bangkok Art and Cultural Centre (BACC), the city's thriving center for the arts, presents a wide variety of modern works of art, design, music, theatre, and cinema. Additionally, it features different exhibitions by Thai and international artists. The center, which is close to the National Stadium BTS Skytrain Station, has an international vibe and offers multilingual personnel and English-language explanations to improve the experience. The huge area occasionally feels lifeless, but once you enter the galleries, the inventiveness is clear.
BACC offers free entrance. Although it hasn't quite attained the level of the major art centers in London and New York, its promise is clear, and a visit should last about an hour. The art center has swiftly gained popularity among students, but the local populace and tourists haven't always shared their excitement. While there are certain restrictions and not every exhibit is of a world-class caliber, it nevertheless provides a fascinating look into modern Thai society.
If you're interested to see any of the town's lesser galleries, it's recommended that you pick up a copy of the Bangkok Art Map while you're there. It offers a monthly report on the current exhibitions and where they are in the city, with some sponsorship from the BACC.
MOCA, Museum of Contemporary Art
A wide variety of contemporary Thai paintings and sculptures are on show at the Museum of Contemporary Art (MOCA) in Bangkok. The five-story art gallery, which is located in Chatuchak, houses more than 800 works of art, many of which belong to Boonchai Bencharongkul, the museum's creator. The museum's permanent exhibits feature some of the most well-known painters in the nation, including Bundit Padungvichian, Denpong Wongsaroj, and Lumpu Kansanoh. About 6.5 kilometers north of the Mo Chit BTS Skytrain Station lies Chatuchak, where the Museum of Contemporary Art Bangkok is located.
The evolution of Thai great art throughout the years is displayed in rooms with plenty of natural light and enough room spacing. Many of its displays are gorgeous, thought-provoking, and even humorous. MOCA is a venue where artists are allowed to investigate subjects.
Bangkok CityCity Gallery
A gallery of modern art called Bangkok CityCity Gallery is located in Bangkok's Sathorn neighborhood. It showcases local artists' creations in a range of media, including live performances, sculptures, paintings, and films. One of Bangkok's custom-built art galleries, the sleek, contemporary design is perfect for allowing artists to display their creations and give presentations of their own unique spin. If you need a food or coffee break while visiting Bangkok CityCity Gallery, a café is located right next door.
Bangkok University Gallery (BUG)
Young, upcoming, and known Thai artists and designers have pieces on display at the Bangkok University Gallery (BUG). Usually, exhibits change six to eight times per year. More experimental mixed work is frequently on the show in the 153-square-meter exhibition room. This exclusive university gallery is situated a short distance from the Klong Toei Port and 1.1 kilometers from the Ekkamai BTS Skytrain Station.
Bangkok National Art Gallery
The Bangkok National Gallery has artwork by Thai painters dating back to the 17th century, in addition to ongoing exhibits of pieces by King Rama VI and H.M. King Bhumibol Adulyadej. There are frequently some intriguing sculptures in the garden and courtyard sections.
At the rear of the courtyard lies the special collection building, which contains domestic and international works of art, including paintings, prints, and installations. It may be challenging to completely comprehend the permanent collection if one is not well-versed in Thai art. However, the more recent, transient exhibits located in the special collections building are worth seeing.
Kathmandu Photo Gallery
Manit Sriwanichpoom, a photographer, has created a shophouse gallery called Kathmandu Photo Gallery. It offers a modern perspective on Thai art and culture and yearly features 6 photo shows by up-and-coming and renowned artists, each of which aims to provoke discussion. The Gallery also sells books and mementoes with spiritual themes, as well as prints that have been personally autographed by the proprietor.
La Lanta Fine Art
The Thai phrase "beauty in plenty," which is how the term "lalanta" is spelt, perfectly describes La Lanta Fine Art Gallery. Since its establishment in 2006, it has become one of Thailand's most successful galleries. This Gallery has a sizable presence at important international art fairs in cities like Singapore, Hong Kong, London, New York, Miami, and Basel.
Along with showcasing contemporary pieces by well-known international artists, La Lanta also exhibits work by up-and-coming local artists. The Gallery, which is located on Narathiwas Rajanakarin Soi 22, is close to other underground art spaces, including Tentacles, Cartel, and Artist+Run. The hours of operation are Tuesday through Saturday, 10 am to 7 pm.
Rotunda Gallery at Neilson Hays Library
The ancient, neo-classical Neilson Hays Library in Bangkok has the Rotunda Gallery. It is located in a small, domed chamber that formerly served as the library's entryway. The Gallery is a well-liked venue for Thai and foreign artists to display their work. Numerous artistic mediums, including photography, textiles, pottery, and paintings, are included in monthly shows. The library and its exquisite furnishings, which were created by Italian architect Mario Tamagno, alone are worth a visit.
Thavibu Gallery
The Thavibu Art Gallery displays artwork from different Asian nations but focuses particularly on promoting works from Thailand, Vietnam, and Burma. The focus is on up-and-coming artists who use their art to explain and portray the inventive characteristics of their culture. A lot of displays also speak to issues that span the social, political, and even spiritual in a wide sense.
Tang Contemporary Art
Chinese contemporary art is the focus of Tang Contemporary Art. The art gallery, which is housed within River City Mall, features a variety of artistic mediums, including oil, acrylic, watercolour, painted photographs, woodcuts, sculptures, and prints, as well as portraits, landscapes, and abstractions. Successful Chinese and Thai artists are included in Tang Contemporary Art's monthly exhibits. The 1.1 km southwest of the Hua Lamphong MRT Station shopping center has a 420 sq m gallery on the second floor.
Queen Sirikit Gallery
The Queen Sirikit Gallery was established in 2003 as part of Her Majesty Queen Sirikit's intention to build lasting open spaces in Bangkok. It showcases and displays the artworks of both seasoned and emerging Thai painters under the name Queen's Gallery. The 3,700 square meter, five-story Gallery features both ongoing and sporadic shows.
MOST Gallery
MOST Gallery, a private art gallery, is run by a regional creative communications company called MOST 2414 Co. Ltd. The three-story shophouse, which is located halfway between Bangkok's Old City and Riverside, is devoted to contemporary art and design. Both domestic and international artists' shows are held there. Additionally, a wide range of things, such as kitchenware, books, photographs, and household goods, are offered for sale.
SAC Gallery
SAC Gallery, a privately managed organization that describes itself as the "leading Thai contemporary art" venue, was founded with the perpuse of elevating the local art scene to a global level. You may roam through two different buildings and get inspired by Thai artists who alternately display their talents.
Since it first opened its doors in 2012, SAC has hosted more than 100 art shows, the majority of which tackle difficult and divisive subjects like the L/Royal Monument and Monster. Another element of the Gallery that makes it a pioneer in the nation's art scene is the SAC Residency Program, which seeks out and develops gifted young artists from all around the kingdom.
H Gallery
In 1999, H. Ernest Lee, an American, founded the H Gallery, a space for modern art in Bangkok. It features works from upcoming Asian and Thai artists. The Gallery is housed in a home designed in the colonial style, and it has a relaxing, welcoming vibe. The minimalistic Gallery has two distinct exhibition areas where paintings, photographs, and textiles may be seen. H Gallery is situated in Silom, approximately 1.4 kilometers southwest of the Sala Daeng BTS Skytrain Station.
Thailand Creative and Design Centre
A contemporary design education and resource center is the Thailand Creative and Design Centre. This Gallery was created to provide practical innovators and company owners with a platform to showcase their innovative ideas. This cutting-edge facility is housed inside the former Bangkok General Post Office building. Over 15,000 design-related books, films, videos, and other materials are available in the design library. Designers can freely display their creations to the public in the creative space.