China has many famous cities; one of the most famous and the second largest city in the world after Tokyo is Shanghai. Shanghai is one of the busiest ports in the world, which is known as a forest of skyscrapers. Shanghai, China is full of culture, history and art, full of glamor, and modern city life. In recent decades, this city has made great progress in various fields, and today is considered one of the main economic areas in the world.
China is a densely populated country, and Shanghai is the busiest city in the country. This city is located in the east of China and it is actually a coastal city. The city of Shanghai is also known as the Port of Shanghai, which is adjacent to the waters of the East China Sea and the Yellow Sea.
Shanghai Through the Ages: A Brief History
Shanghai has little history compared to many other cities. Shanghai was a modest fishing community in the eleventh century. This city grew steadily to become China's greatest residential and commercial metropolis after being a center for the manufacturing of linen in the 18th century. The French, Americans, and Japanese also occupied parts of Shanghai after the Chinese Ming Dynasty lost the first war to the British in 1842. As a result, Shanghai's appearance changed and its growth rate rapidly increased. In the 1930s, the city also developed quickly as a commercial port because there were no visa requirements. This development process was paused multiple times over the years, but nothing could stop Shanghai's tremendous growth until it became one of the most modern and organized cities in the world today.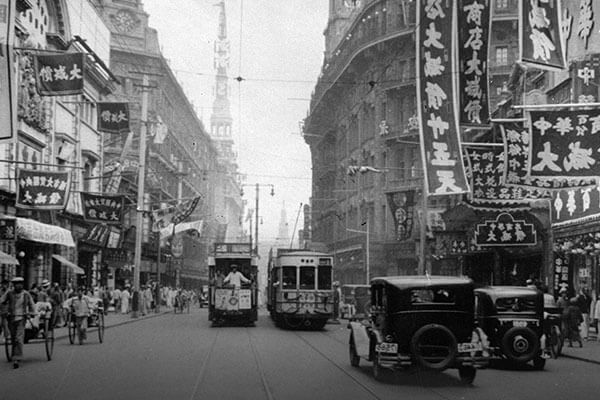 The Geographical Location of Shanghai
On the left bank of the Huangpu River stands Shanghai, sometimes known as the New York of the East. Of course, from the south bank of the Yangtze, it is just a short distance from the Pacific Ocean, which explains why the literal meaning of Shanghai in Mandarin is over the sea. The river separates the city into two halves. Pudong, a new area with modern architecture, lies in the east, while Puxi, an older district, is in the west. Changning, French District, Huangpu, Jing'an, Old Town, the Bund, Putuo, Yangpu, and Xuhui are some of the districts inside Puxi itself. Pudong also contains five districts, referred to as Zhujiajiao, Pudong, Chongming, the western suburbs, and the southern suburbs.
This city, which is situated on China's eastern coast, has a 6341 km2 area and inhabitants of 26.32 million as of 2019. This city is mostly a flat city with a height of about 4 meters above the sea level, which is filled with rivers, lakes and water channels.
Shanghai Climate
There are four different seasons in Shanghai's climate, which is moderate and humid. Relatively cold winters with little rainfall and hot and humid summers and mild spring and autumn are the characteristics of this city's climate. In this city, temperatures below zero are less common, and due to its proximity to the sea, the air humidity is relatively high throughout the year.
Language and religion of people in Shanghai
According to the official law of China, the religion of this city is atheism, like the city of Beijing. The city of Shanghai, due to its vastness and location of different cultures, has welcomed all kinds of religions and religions. All the people of this country speak Chinese, which is because, with so many foreign companies and non-Chinese people living in the city, you'll also see people speaking other languages.
The culture and customs of Shanghai people
One of the great advantages of traveling is getting to know new people and their cultures. It goes without saying that getting to know and comprehend individuals in Shanghai is an unending task that takes time, effort, and respect. Shanghai residents are generally quite warm and hospitable. They want to share their culture with you and learn about yours, so living here won't cause you any issues with interacting with the locals or finding it difficult to speak with them.
The way of life of the people of Shanghai is a fusion of the greatest and most cutting-edge elements of western culture and the local culture of Shanghai, which is distinctive in its own way. This is because, upon first impressions of the city, you could assume that its inhabitants are blindly embracing western civilization. Visitors to this city may experience both Shanghai's heritage and its modernity. It's intriguing to learn that older folks in Shanghai practice traditional dances and martial arts in parks and squares in the early morning.
The ancient art of "Pingtan" (storytelling and singing), as well as opera performances, are two more highly significant things to do in Shanghai. Both of these activities are very well-liked by Shanghainese people, particularly the elderly. They frequently visit the city's teahouses to observe them since they want to see them there in groups. The main thing to remember is to attempt to minimize excessive body language and facial emotions in this city because the locals can misinterpret them. Also, try to avoid providing straight responses whenever feasible. For instance, using the word maybe rather than explicitly declining is far more polite. You should also not be shocked by prolonged meal silences because Shanghainese people view them as a show of courtesy and respect for others.
Some food tips in Shanghai
Shanghai's cuisine, like its people and culture, is influenced by Chinese food culture. For this reason, many foods in Shanghai are served sweet and fatty. However, Shanghai seafood is considered a fusion of the sea. The word Shanghai means above the sea, but due to the city's location at the mouth of China's largest river, the food priority for the natives there is freshwater fish.
Of course, seafood is also very popular and is often served boiled. In Shanghai, when we talk about meat, we definitely mean pork! So you have to be very careful and before ordering food, tell the waiter whether the meat in the food is beef or pork! The last word is that Shanghai is located in the heart of a region of China where the production and consumption of soy are very high, and most of the food is cooked with soy and all kinds of herbs and vegetables.
Suggested hotels in Shanghai
Accommodation during the trip is one of the important points to consider. The cost of staying in this city is a bit high. Hotel prices vary during the week and in different parts of the city. In the city of Shanghai, the prices of hotels are in different ranges, and you have to be a bit conscious in choosing your hotel. Below we introduce some of the famous luxury hotels of this city:
Pudong Shangri-La Hotel
GRAND MERCURE HOTEL SHANGHAI CENTRAL
Le Royal Meridien Shanghai Hotel
Indigo Hotel
The Dragon Hotel Hangzhou
Sheraton Shanghai Hongkou Hotel
Radisson Blu Hotel Shanghai Hong Quan
Four Points by Sheraton Shanghai Hotel, Pudong
Courtyard by Marriott Shanghai Central Hotel
Shanghai Greenland Jiulong Hotel
Suggested restaurants in Shanghai, China
Efes Restaurant Turkish
Various international dishes are served in Efes restaurant and it is easier for travelers to choose food.
Xibo restaurant
In Xibo restaurant, you can eat local Shanghai dishes. Get a wide range of different dishes including Goshfand meat, eggplant, and pumpkin in this restaurant.
ShangHai DiShuiDong Restaurant
To prepare a hearty lunch, you can try the ShangHai DiShuiDong restaurant in Shanghai. Rib meat with cumin is the most famous dish of this restaurant. Shrimp Mao dish and fried chicken pieces with pepper are other popular dishes served in this restaurant.
Hakkasan restaurant
Hakkasan restaurant's sushi is unique. But you should note that the price of food in this Chinese restaurant is a little high.
Tourist Attractions in Shanghai
One of the most important tourist attractions in Shanghai is the excellent museums and art galleries. Beautiful parks and gardens with unique green spaces, old temples, traditional pagodas, and modern shopping centers are only a part of the attractions of this large and densely populated city. Considering the natural and geographical situation, as well as its historical age, the places and monuments of Shanghai are so great that it is impossible to explain them all at once. However, we will briefly explain some important and popular tourist attractions of this city that you should not miss:
Yu Garden
400-year-old Yu Garden is one of the most beautiful gardens in Southeast China, located in An Rin Jai. This classical Chinese garden has several halls and halls and a small and large pond, which was built by order of the Ming Dynasty emperor, and has a very beautiful view in the spring season.
Oriental Pearl Tower
Oriental Pearl Tower is situated alongside the Hangpo River in Shanghai's Pudong neighborhood. This three-legged steel tower, which stands 468 meters tall and is the sixth highest structure in the world, started building in 1990 and was completed by the end of 1994. This tower has 14 floors, which includes a revolving restaurant, a space hotel at the height of 140 to 230 meters, 9 TV channels and 10 FM radio channels.
The Jade Buddha Temple
There are many Buddhist temples in Shanghai, but one of the most famous is the Jade Buddha Temple. A temple with two famous Buddha statues was brought to Shanghai from Burma and Singapore; One sitting Buddha and the other reclining are carved from marble and jade. This is a Buddhist temple in the eastern part of Shanghai, which is very sacred and respected by the local people, which was built in 1882.
Shanghai Ocean Aquarium
In Shanghai's Pudong district sits the Shanghai Ocean Aquarium. This attractive and beautiful aquarium is one of the largest marine aquariums in the world. This aquarium has an area of more than 205,000 square meters and has the longest undersea tunnel in the world with a length of 155 meters. More than 450 different kinds of aquatic creatures from 4 distinct seas and various continents are housed in this aquarium, which is organized into 9 sections.
The Bund
Bund or Waitan is the architectural symbol of Shanghai city; there is a beautiful 1.5 km long boulevard on the west bank of the Huangpu River, and historical buildings with ancient and modern European architecture can be seen along this boulevard. During the day, people practice dancing or Tai chi by the river and Band Boulevard. The love wall by the river is also very beautiful and eye-catching.
Zhujiajiao Ancient Town
Jujiajiao village, like many other ancient settlements of the Qing and Ming dynasties, is full of gardens and historical monuments. This 400-year-old village built in the water is considered one of the most beautiful areas of Shanghai and China, and it is very important for the local people not only in terms of tourism but also for commercial reasons. Boating in the waterways of this village and seeing historical temples and residential houses is one of the most important things for many tourists after arriving in Shanghai.
Renmin Square and Shanghai Museum
Renmin Square or Shanghai People's Square is a large square located in the center of the city between Nanjing West and Nanjing East Streets. This public and famous square is one of the special symbols of Shanghai. The Shanghai Museum can also be seen next to this square, the most famous collection in the Shanghai Museum is the Ancient Chinese Bronze Gallery; By displaying stone sculptures from these ancient dynasties, to Buddhist colored plaster sculptures. The ancient Chinese ceramics gallery of this museum is also very large and popular. All kinds of art are displayed in this gallery; from carved bamboos to various manuscripts.